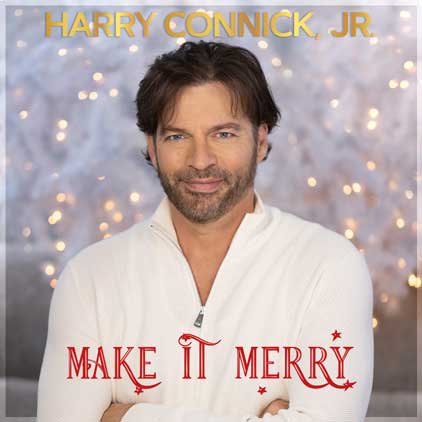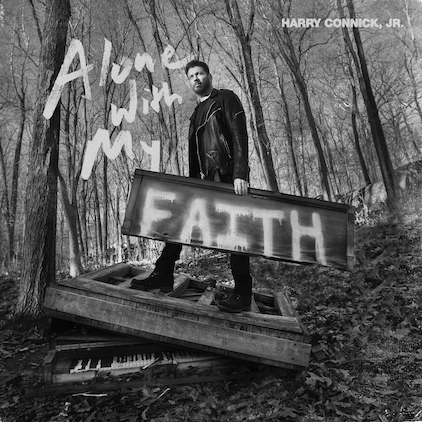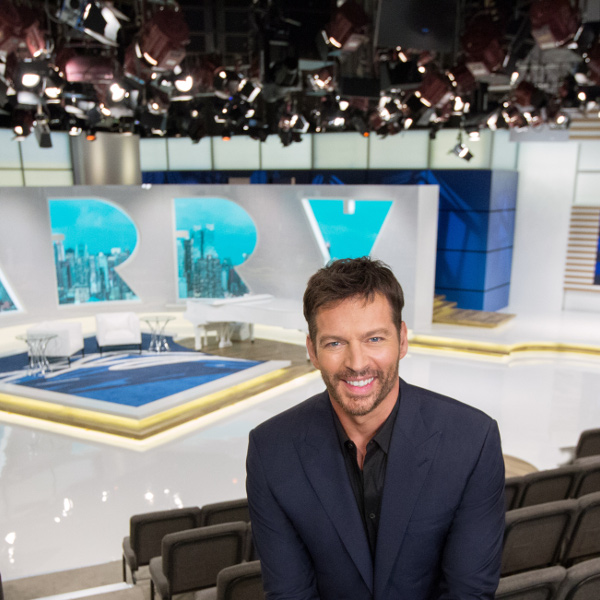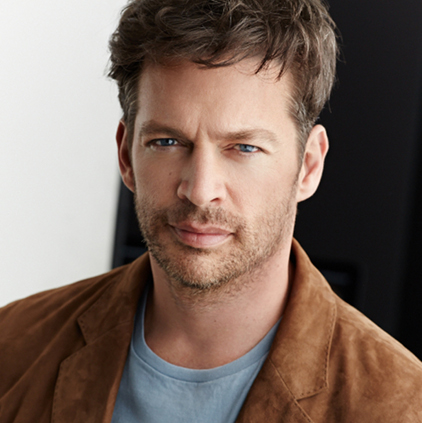 Harry Connick Jr. has exemplified excellence in every aspect of the entertainment world. He has received recognition with multiple Grammy and Emmy awards as well as Tony nominations for his live and recorded musical performances, his achievements on screens large and small, and his appearances on Broadway as both an actor and a composer.
Harry releases a brand-new holiday album, Make It Merry, on November 26, available exclusively on Apple Music in Spatial Audio and iTunes. The 12-track album, which marks his fourth holiday album, features Harry's definitive take on Christmas classics including "Have Yourself A Merry Little Christmas" and "Jingle Bells," as well as newly-recorded versions of his own originals and fan favorites like "(It Must've Been Ol') Santa Claus" and "When My Heart Finds Christmas," alongside two brand-new, original songs that are sure to become instant holiday classics. "Make It Merry" is the first of the original songs, along with "On This Christmas Morning," set to be featured on the album. Coinciding with the album announcement, Harry is unveiled the first single and title track "Make It Merry" – listen here – and its accompanying music video – watch here.
With the pandemic casting a long shadow in 2020, Harry retreated to his home studio during the lockdown and emerged with an album of songs of faith and inspiration. ALONE WITH MY FAITH is to be released jointly by Universal Music's Verve and Capitol CMG on March 19, 2021. Harry wrote and arranged many of the songs, played every instrument, and sang every part. Both the album cover and the music videos for "Amazing Grace" and "Alone With My Faith" were conceived and directed by Harry's daughter Georgia Connick.
Harry shared his personal journey in creating this singular musical work in his liner notes, re-printed below.
"In March 2020, right after news of the pandemic hit, when my tour was cancelled and I headed home for however long it would last, I decided to record some music. Not only because I wanted to, but because I needed to. With no tour dates in sight, and with everyone's realities upended and futures uncertain, recording was what was necessary for me to help guide me through the uncharted odyssey in which we all unexpectedly found ourselves. I found myself alone (with my faith!) in my home studio, surrounded by instruments and gear, bursting with an abundance of ideas. I was able to go deep within myself as a musician and a man, uninterrupted by the normalcies of collaboration or human interaction. It was a sort of "musical isolation chamber", a silent retreat, the silence only broken by the sound of my own voice, the instruments I played and the occasional microphone I inadvertently knocked over, as I'm not the most graceful recording engineer that ever lived!
Seven months later, after countless tracks and edits, I can say that it was not only the secluded nature of the recording process, but the content of the songs themselves that helped me through this strange period. In fact, this was the first time that I found this level of comfort, peace and truth throughout the process of making music. Because the lyrics are all about the spectrum of faith, I found myself interpreting them in real time - they were allowing me to heal as much as I wanted them to help heal others. I didn't have to pretend or put myself in another place or time, as one often does as a singer or actor.
Besides the familiar, traditional songs, I wrote and recorded new music that tells the story of my experience during the lockdown. I, like most of us, felt joy, sadness, doubt, conviction, melancholy and inspiration - all the emotions that faith, or lack thereof, can elicit. Even though many of the songs are Christian, my hope is that they will resonate with people of all faiths, as it gives me great comfort to know that faith is an immeasurably beautiful gift that, with its universal spirit, can help bring us together in the most arduous of times."
HOW IT ALL STARTED…
The foundation of Harry's art is the music of his native New Orleans, where he began performing as a pianist and vocalist at the age of five. He was schooled by two of the city's keyboard legends – James Booker, who allowed a pre-teen Harry to sit at his elbow in local clubs, and Ellis Marsalis, who provided more structured instruction during Harry's teenage years. When Harry left for New York at age 18, he was equipped with a precocious command of jazz and popular music styles.
In 1988, his follow-up album 20 announced that Harry was equally gifted as an interpreter of the Great American Songbook; but this was soon overshadowed by his multi-platinum success with When Harry Met Sally…, the soundtrack to the celebrated 1989 comedy by director Rob Reiner and Harry's first performance with a big band. Harry so enjoyed the experience that he formed his own big band, which has been featured in recordings and live performances over the subsequent decades.
In the 90s, Harry became an on-screen presence in roles that found him working alongside a host of talented actors. Hailed as "poignant" in the character study Little Man Tate (directed by and starring Jodie Foster) and "scarily effective" as a killer in Copycat (with Holly Hunter and Sigourney Weaver), Harry further displayed his range as the romantic lead in Hope Floats (with Sandra Bullock), the action features Memphis Belle and Independence Day, and the improvisational The Simian Line. His voiceover skills were also featured in My Dog Skip and The Iron Giant.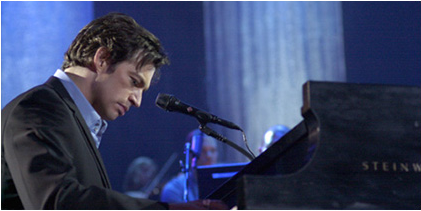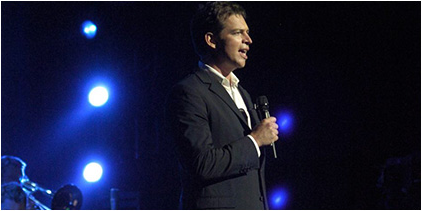 THE DECADE ALSO SAW HARRY BUILD ON HIS EARLY MUSICAL SUCCESSES WHILE REVEALING NEW FACETS AS A COMPOSER AND BANDLEADER ON A SERIES OF BEST-SELLING ALBUMS.
His songwriting skills, first displayed on WE ARE IN LOVE and BLUE LIGHT, RED LIGHT, extended to funk on SHE and STAR TURTLE, then reestablished a romantic focus on TO SEE YOU. LOFTY'S ROACH SOUFFLE, 25 and 30 confirmed Harry's ongoing prowess as a jazz pianist, while WHEN MY HEART FINDS CHRISTMAS became one of the most successful holiday releases of all time, as well as the basis of Harry's first Network television special. COME BY ME, recorded with the big band Harry had led for a decade as well as a full orchestra, summed up the array of music at his command as the 90s ended, and held its place atop the Billboard charts for several months.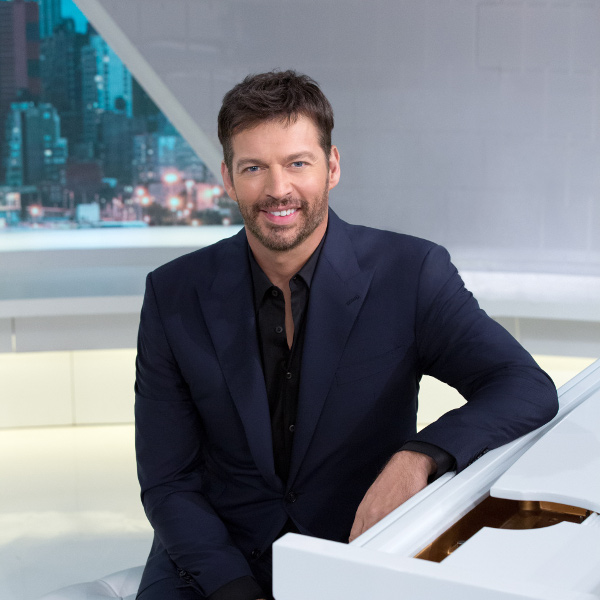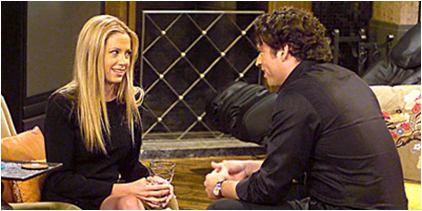 The new millennium brought more of the same, and then some. With his lead role in the ABC production of South Pacific, Harry began making his mark in the world of television. He quickly garnered a recurring role in the groundbreaking sitcom Will & Grace, starred in the Lifetime film Living Proof, and was featured in a four-episode sequence of the popular Law & Order: Special Victims Unit. Harry brought his music to the small screen with a Harry for the Holidays Christmas special on NBC (based on his acclaimed second seasonal hit album), his Emmy-winning PBS specials Only You in Concert and Harry Connick, Jr. in Concert on Broadway, and the animated tale The Happy Elf, based on one of Harry's original songs. Harry has become a go-to artist for important events including performances at Pope Benedict XVI's Yankee Stadium mass, the NBA All-Star Game held in New Orleans (where he served as musical director), the National Anthem at Super Bowl XXVI and the 143rd Running of the Kentucky Derby.
THE CONNICK REALM ALSO EXPANDED TO INCLUDE BROADWAY, WHERE HARRY RECEIVED TONY NOMINATIONS AS BOTH COMPOSER/LYRICIST FOR THE MUSICAL THOU SHALT NOT AND AS THE LEAD IN THE TONY-WINNING REVIVAL OF THE PAJAMA GAME.
He has also adapted The Happy Elf for children's theater, starred in the Broadway revival of On a Clear Day You Can See Forever, and—on the 20th anniversary of his first Broadway concerts at the Lunt-Fontaine Theatre—brought his live show for an extended residency at the Neil Simon Theatre, where the Emmy award-winning Harry Connick, Jr. In Concert On Broadway television special was filmed.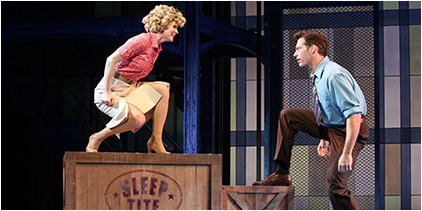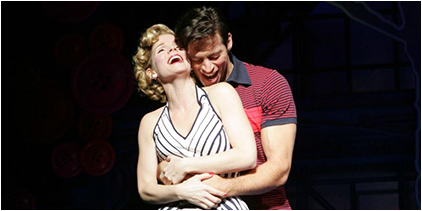 Harry continued to tour internationally with his big band, finding time when not making music to invent an interactive computerized sheet music system. He has also recorded more hit albums in a variety of settings. Harry revisited childhood favorites on SONGS I HEARD, romantic standards on ONLY YOU and more contemporary classics on YOUR SONGS; placed his piano in intimate settings on the quartet collection OTHER HOURS and OCCASION, his duet with longtime friend Branford Marsalis; and reasserted his seasonal reign at Christmas with HARRY FOR THE HOLIDAYS and WHAT A NIGHT! A CHRISTMAS ALBUM.
IN 2013, HARRY RETURNED HIS FOCUS TO ORIGINAL MUSIC WITH TWO ALBUMS OF COMPLEMENTARY MATERIAL. SMOKEY MARY, A LIMITED RELEASE CELEBRATING THE 20TH ANNIVERSARY OF THE KREWE OF ORPHEUS THAT HARRY CO-FOUNDED, CAPTURES THE MARDI GRAS SPIRIT OF NEW ORLEANS AND ALL OF ITS CITIZENS AND CONTAINS NINE NEW CONNICK SONGS, WHILE ELEVEN MORE ARE INCLUDED ON EVERY MAN SHOULD KNOW, A COLLECTION THAT TOUCHES ON SOME OF HARRY'S DEEPEST FEELINGS ABOUT LIFE AND LOVE.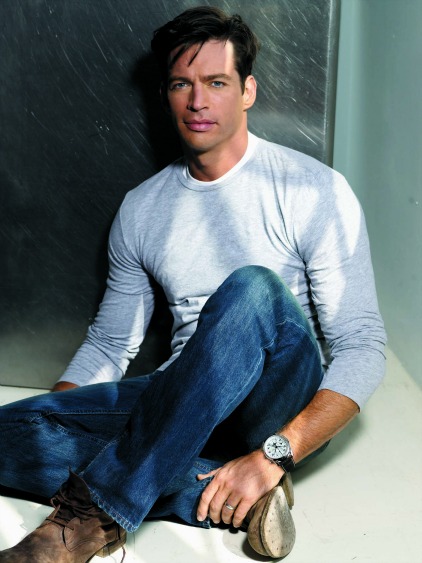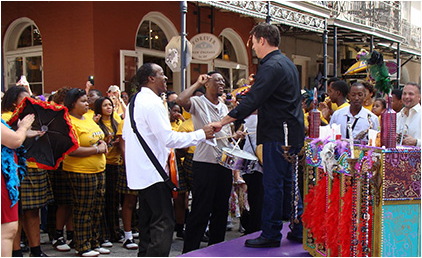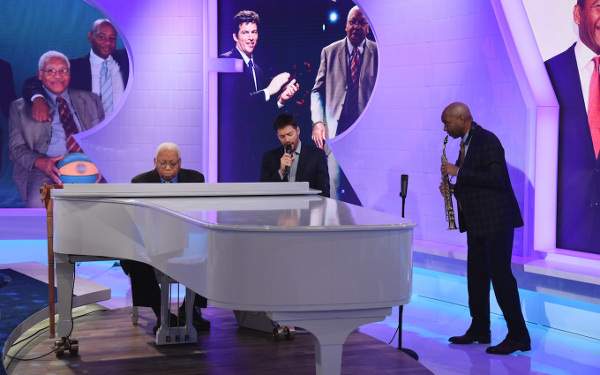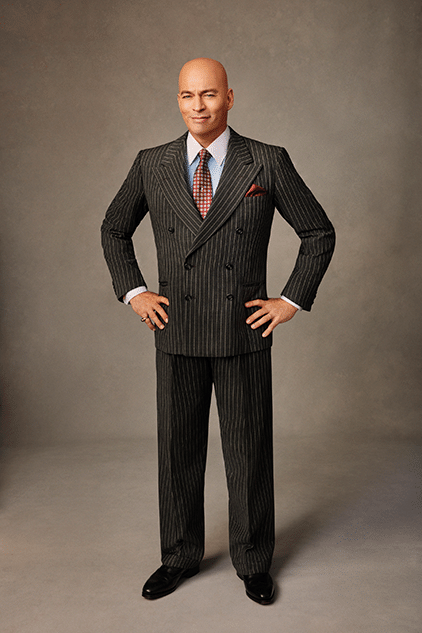 THAT WOULD BE ME was released in 2015 on Columbia Records. For the first time in 25 years, Connick took a step outside his musical comfort zone to work in the studio with two "external" producers on this album – the acclaimed Eg White (Sam Smith, Adele, Florence And The Machine) and Butch Walker (Taylor Swift, Katy Perry, Pink, Weezer). THAT WOULD BE ME was recorded in London with White and Nashville with Walker. The result is a carefully crafted record full of surprises and stirring musical conjurations, delivering 11 new songs which continue to stretch boundaries and embracing the plain-spoken instincts that have guided him throughout his life. Additionally, the album art also represents a departure from his other covers, showcasing a portrait of his face created entirely from musical objects.
While Connick reserved the right to have final say on the end result, he found his voice coming through the record and enjoyed the collaborative nature of the process, a contrast to his 2013 album release, EVERY MAN SHOULD KNOW, which featured twelve original songs for which Connick wrote music, lyrics and arrangements.
In October of 2019, Harry released his debut album TRUE LOVE: A CELEBRATION OF COLE PORTER on legendary Verve Records, his new label home. Comprised exclusively of Cole Porter compositions, TRUE LOVE highlights Connick's talents as pianist, singer, arranger, orchestrator and conductor, as he breathes new life into popular songs from The Great American Songbook including "Anything Goes" and "You Do Something To Me."
"This is the first time I've taken a deep dive into another artist's repertoire, and Cole Porter was my #1 choice for the project. His lyrics are witty and nuanced and he takes risks as a composer that I find appealing", Connick said. Connick's effort in pulling together the album TRUE LOVE was typically Herculean. After selecting the songs, and writing and orchestrating the arrangements, he assembled and conducted the orchestra which features his longtime touring band with additional horns and a full string section. The results showcased new depths in every area of Connick's creativity, which soared to new heights in the new show that he conceived and directed on Broadway in December of 2019.
In the fall of 2016 Connick launched "HARRY," a nationally syndicated daytime television show. During its two seasons, "HARRY," hosted by Connick and featuring his touring band, was an hour of uplifting television that celebrated women and delivered laughter and fun through a variety of comedic segments, talk, and musical performances. Drawing inspiration from family-friendly shows of the past, "HARRY" reflected the unparalleled entertainment skills of Harry Connick, Jr.'s varied career in music, film, television, and Broadway. "HARRY" also provided Connick with a platform to write, arrange and orchestrate music for his band on a daily basis, and to showcase the talents of his amazing musicians. The television industry recognized the debut season of "HARRY" with five Emmy nominations, including a nomination for best host.
Annie found her Daddy Warbucks as Harry joined the cast of "Annie Live!" as Sir Oliver "Daddy" Warbucks - the larger-than-life billionaire who opened his heart and home to little orphan Annie. The iconic musician and star of stage and screen brought Daddy Warbucks to life on stage opposite Taraji P. Henson's devious Miss Hannigan. The deliciously diametric characters vied for Annie's affection and led a cast in the live production of the beloved Tony-winning hit musical which aired December 2, 2021 on NBC.
Film projects during the period includes starring roles in Life without Dick (opposite Sarah Jessica Parker), Mickey (author John Grisham's first original screenplay), Basic (with John Travolta and Samuel L. Jackson), Bug (with Ashley Judd), P.S. I Love You (with Hillary Swank and Gerard Butler), New in Town (opposite Renee Zellweger) and the number one box-office hit Dolphin Tale (alongside Morgan Freeman and Ashley Judd.
Amidst all of this activity, Harry has done some of his most important work in his efforts to help New Orleans rebuild after the devastation of Hurricane Katrina. After he and Branford Marsalis were among the first to visit displaced residents in New Orleans and Houston, the two old friends conceived Musicians Village as a means to provide housing in the Upper Ninth Ward to musicians and other displaced citizens, then joined forces with New Orleans Area Habitat for Humanity to make their dream a reality. To date, Musicians Village has provided homes for many of the city's residents as well as a focal point for preserving and extending New Orleans' creative heritage with the Ellis Marsalis Center for Music. Two albums released in 2007 to draw attention to the devastation, the vocal collection OH, MY NOLA and its instrumental companion CHANSON DU VIEUX CARRE', confirm that Harry remains one of the reigning masters of his hometown's greatest gift to world culture.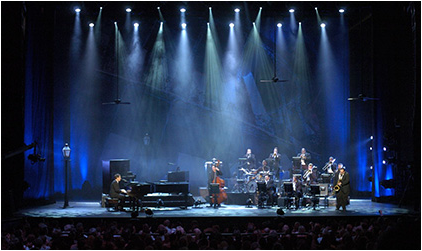 HARRY'S CONTRIBUTIONS TO THE POST-KATRINA EFFORT HAVE BEEN ACKNOWLEDGED WITH A REDBOOK STRENGTH AND SPIRIT AWARD, AN HONORARY DEGREE FROM TULANE UNIVERSITY, A 2010 NATIONAL BUILDING MUSEUM HONOR AND THE 2012 JEFFERSON AWARD FOR PUBLIC SERVICE.
The Hollywood Chamber of Commerce selected Harry Connick, Jr. to receive a star on their celebrated Hollywood Walk of Fame as part of their upcoming class of Honorees. These and other honors, including three Grammy awards, two Emmy Awards, two Tony nominations, induction into the Hollywood Bowl Hall of Fame, sales of over 28 million albums and a slew of rave reviews have not led Harry Connick, Jr. to slow his creative pace; they only confirm his determination to apply his talents in ways that prove inspirational to other artists and publicly spirited citizens.