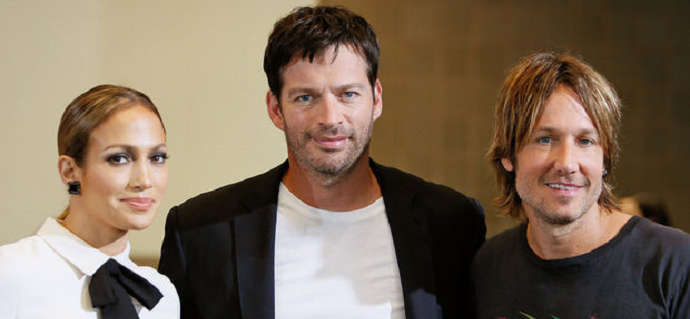 By Robin Lempel - Hollywood Take, 1/5/2015
Season 14 of American Idol is premiering on Jan. 7 on Fox, and it looks like this season is going to be as exciting as ever. From amazing singers to the hilarious auditions, host Ryan Seacrest and judges Harry Connick Jr., Jennifer Lopez, and Keith Urban will be meeting tons of talented hopefuls from around the country looking to be the next American Idol. 
"In the auditions, [we were] looking for kids that are more ready for what this is," Connick Jr. explained. "There were a lot of talented kids last year [who] didn't do that well on the show, whether it's because of nerves or lack of experience. What we all tried to do was find kids that would be more ready for the American Idol experience ... If you're going to be an entertainer, you have to be able to perform on cue."
Keith Urban was busy judging American Idol when he skipped wife Nicole Kidman's appearance at the Cannes Film Festival.
He added that the American Idol judges are looking for more than just singing talent. They want the whole package. While some of the singers are "definitely rough, some of it boils to straight-up personality," he said. "I can think of a few kids that are just goofballs and they love to have fun. We didn't have a whole lot of that last year, kids that give you unexpected answers."
For this reason, American Idol has gone through some format changes. There will be a contestant performance at the House of Blues in Los Angeles before they announce the Top 24, which will show the judges how contestants do in front of a live audience.
Even celebs like to snap selfies! Jennifer Lopez and Ryan Seacrest pose for an adorable pic, which the radio host later posted on Instagram.
This season will also eliminate the results show. Instead, performances and eliminations will happen in the same episode. And, Scott Borchetta will replace Randy Jackson as a mentor during Season 14.
There are so many changes, in fact, that we've even already gotten a glimpse of the Top 24. While we didn't get to see their faces, we did hear their voices in a preview before we even saw the auditions. "It's an 'Idol' first," Seacrest said. "Before we even show you the auditions, we are going to introduce you to the Top 24."
And, of course, the American Idol judges will have great chemistry again this season. Seacrest, Urban, Connick Jr. and Lopez all have nothing but great things to say about each other and really seem to get along on the show. Always laughing and praising each other, they're always lighting up the show. "I love working with Jen [Lopez], Harry [Connick Jr.], and Ryan [Seacrest]. It feels like family in a really good way," Urban gushed.
So what can we expect from the Season 14 American Idol auditions, which will begin in Nashville? We will meet hopefuls likes Andrew Annello, Riley Bria, Piper Jones and more. "This is my time. I feel it. I think the world is ready to hear Piper Jones," Jones said in a preview clip. 
http://www.hollywoodtake.com/american-idol-season-14-changes-better-new-season-will-feature-different-format-singing-67752