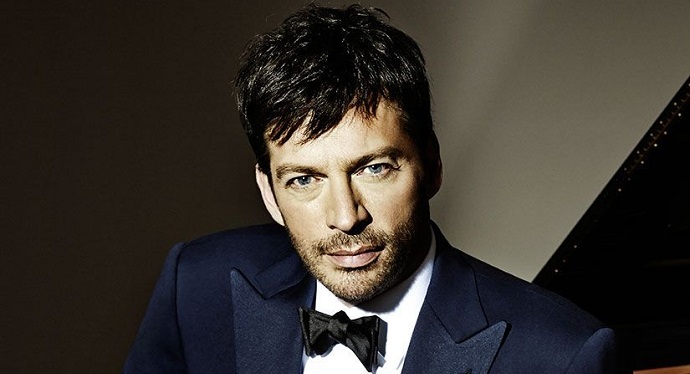 By Zack O'Malley Greenberg ~ December 1, 2014
In 2002, during his time on Will & Grace, Harry Connick Jr. joined Debra Messing for the finale of a new show called American Idol. Sitting in the audience that night, they were rewarded with a knockout performance of "A Moment Like This" by the show's inaugural winner, Kelly Clarkson. But even as he appreciated a moment like that, Connick never dreamed that, more than a decade later, he would become one of the show's three judges.
"That team of Simon and Randy and Paula was so successful that we just assumed that they would be the judges for the next 50 years," says Connick in his pleasant New Orleans drawl. "We were big fans of the show, and just to be in the audience that night was pretty cool."
Connick's pre-Idol career could be described similarly. Now 47, he's accomplished more than most entertainers do in a lifetime. Since releasing his self-titled debut album at age 19, he's sold more than 28 million records and won three Grammys. His musical success carried over to movies after Connick wrote the score to When Harry Met Sally in 1989 and sang several songs on the platinum-selling soundtrack; within a decade, he was playing a romantic lead alongside Sandra Bullock in Hope Floats and kicking some alien butt with Will Smith in Independence Day.
Then in 2010–like Elton John, Tony Bennett and Bono before him–Connick was asked to be a mentor on Idol. Unlike previous mentors, Connick didn't just offer decades of musical wisdom to the contestants, he brought something else that connected with both the contestants and the audience–a sense of humor. A few seasons later, when a spot opened up at the judges' table for the show's 13th season, he jumped at the chance.
"I think it's the gold standard," Connick says of the singing competition. "One, it's been around the longest. Two, it's the most streamlined of all these shows. I mean, there's no gimmicks, there's no teams. It's just a bunch of people auditioning, and the group gets smaller and smaller and smaller until eventually it's one person who wins."
Connick's good-guy persona also helped heal the tension at Idol following the previous season's tempestuous atmosphere. The judges, particularly Nicki Minaj and Mariah Carey, bickered constantly, and losing contestants weren't always given constructive criticism. The new panel of Connick, Keith Urban and Jennifer Lopez sang a different tune, and many critics singled him out for saving the show.
"If I loved it, I loved it," says Connick of his judging style. "If I didn't like it, I think the key was not only to tell them that I didn't like it, but to tell them why and give them specifics. Because you can't expect somebody to grow if you just say, 'Oh, I don't like your jacket, and that song didn't really do anything for me.'"
That approach figures to continue throughout the upcoming season, which premieres in January. Connick and the judges have already filmed auditions in six different cities, where they listened to 100 or so performers at each stop. Soon they'll cut those down to about 25 television-worthy auditions–and this crop should be a bit more telegenic than usual. " A lot of the kids last year were terrific talents," he says, but weren't that experienced in front of a camera. "
Mood Indigo: Harry Connick, Jr. Teaches Black Tie The Blues
It's a skill that Connick learned early on. Raised by two New Orleans lawyers–his father was a district attorney and his mother a Louisiana Supreme Court justice–who owned a record store, he started performing as a singer and pianist at the age of 5. Early mentors included local legends James Booker and Ellis Marsalis, father of fellow jazz stars Wynton and Branford.
At 18, Connick left the Big Easy for the Big Apple and landed a deal with Columbia Records a year later, earning easy comparisons to Frank Sinatra (and Frank Sinatra Jr.) along the way. Today he lives an hour outside New York in New Canaan, Connecticut, with his wife of 20 years, former Victoria's Secret model Jill Goodacre, and their three children. But he still attributes his success to his New Orleans heritage.
"So much of who I am as a man and as a musician, as an entertainer, came from my growing up in New Orleans," Connick says. "I mean, New Orleans taught me about diversity in music."
And Connick has paid that lesson forward. In 1993 he cofounded the Krewe of Orpheus, one of the first integrated Mardi Gras krewes. Soon he was hosting celebrities from Hilary Swank to Stevie Wonder, and riding on parade floats with names like the Leviathan and Smokey Mary (also the title of an album he released in 2013).
After traversing a miles-long parade route, Connick's krewe typically ends the night with a massive black-tie party called the Orpheuscapade. Guests throw beads and gold coins as they eat, drink and listen to their idol, Harry Connick Jr., crooning onstage. "Had I been brought up anywhere else," he says, "you wouldn't be talking to me right now."
http://www.forbes.com/sites/zackomalleygreenburg/2014/12/01/an-american-idol-xiv-sneak-peek-with-harry-connick-jr/
Check out the photo gallery for this article here:
http://www.forbes.com/sites/zackomalleygreenburg/2014/12/01/mood-indigo-harry-connick-jr-teaches-black-tie-the-blues/