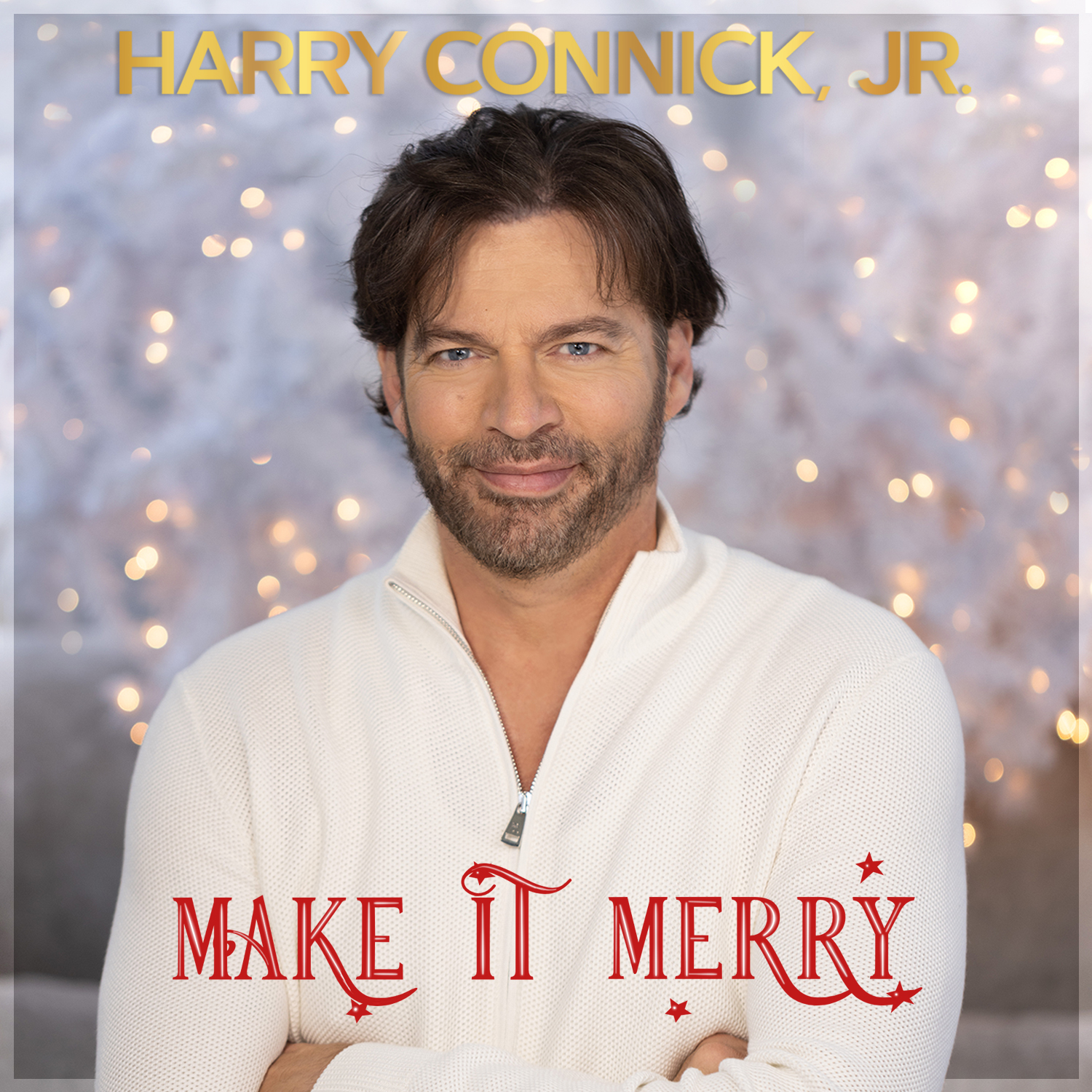 November 18, 2022 – Harry Connick, Jr. announces new holiday album Make It Merry, and debuts brand new original title track "Make It Merry"! Listen here and watch the music video here.
Make It Merry will be released November 26, available to stream exclusively on Apple Music in spatial audio and iTunes. To Pre-add on Apple Music click here.
GRAMMY and Emmy Award-winning musician, singer, composer, legendary live performer, and multi-platinum best-selling artist, Harry Connick, Jr., is set to release a brand-new holiday album, Make It Merry, on November 26, available exclusively on Apple Music in Spatial Audio and iTunes. Pre-Add Make It Merry on Apple Music here.
Long regarded as one of America's finest vocalists and pianists, Harry has continued to establish himself as one of the most beloved artists performing holiday music to date. The 12-track album, which marks his fourth holiday album, features Harry's definitive take on Christmas classics including "Have Yourself A Merry Little Christmas" and "Jingle Bells," as well as newly-recorded versions of his own originals and fan favorites like "(It Must've Been Ol') Santa Claus" and "When My Heart Finds Christmas," alongside two brand-new, original songs that are sure to become instant holiday classics. "Make It Merry" is the first of the original songs, along with "On This Christmas Morning," set to be featured on the album.
Coinciding with the album announcement, Harry is unveiling the first single and title track "Make It Merry" – listen here – and its accompanying music video – watch here.
Tonight, Harry kicks off his "A Holiday Celebration 2022 Tour" in Hershey, PA at Hershey Theatre. The tour will make stops across the U.S. including Washington, DC's famed Kennedy Center (November 21st), back-to-back nights at DPAC in Durham, NC (November 22nd and 23rd) and at New York City's esteemed David Geffen Hall, Lincoln Center (November 27th & 28th); along with two nights in Mesa, AZ at Mesa Arts Center (December 12th & 13th), a three-night stand at Hollywood Pantages Theatre in Los Angeles (December 15th, 16th, & 17th), and two nights at Seattle's Benaroya Hall (December 19th & 20th) before concluding on Christmas Eve in San Francisco at Davies Symphony Hall. Full tour routing can be found below, and information on where to purchase tickets can be found at www.harryconnickjr.com/tour.
Harry Connick, Jr. has exemplified excellence in every aspect of the entertainment world. He has received recognition with multiple GRAMMY and Emmy Awards as well as Tony nominations for his live and recorded musical performances, his achievements on screens large and small, and his appearances on Broadway as both an actor and a composer. He has sold millions of holiday albums, which have become the soundtrack to Christmas for fans around the world.
TRACKLISTING
Have Yourself A Merry Little Christmas
Make It Merry
Papa Noel
The Christmas Song
I Pray On Christmas
(It Must've Been Ol') Santa Claus
It Came Upon The Midnight Clear
Christmas Time Is Here
On This Christmas Morning
When My Heat Finds Christmas
Christmas Day
Go Tell It On The Mountain
HARRY CONNICK, JR. – A HOLIDAY CELEBRATION 2022 TOUR
| Date | City | Venue |
| --- | --- | --- |
| Fri, 11/18/2022 | Hershey, PA | Hershey Theatre |
| Sat, 11/19/2022 | Philadelphia, PA | Academy of Music |
| Sun, 11/20/2022 | Richmond, VA | Altria Theater |
| Mon, 11/21/2022 | Washington, DC | Kennedy Center |
| Tue, 11/22/2022 | Durham, NC | DPAC |
| Wed, 11/23/2022 | Durham, NC | DPAC |
| Fri, 11/25/2022 | Cleveland, OH | KeyBank State Theatre |
| Sat, 11/26/2022 | Rochester, NY | Auditorium Theatre |
| Sun, 11/27/2022 | New York, NY | David Geffen Hall, Lincoln Center |
| Mon, 11/28/2022 | New York, NY | David Geffen Hall, Lincoln Center |
| Tue, 11/29/2022 | Pittsburgh, PA | Benedum Center |
| Wed, 11/30/2022 | East Lansing, MI | Wharton Center |
| Thu, 12/1/2022 | Milwaukee, WI | Riverside Theater |
| Sat, 12/3/2022 | Peoria, IL | Civic Center Theater |
| Sun, 12/4/2022 | St Louis, MO | Stifel Theatre |
| Tue, 12/6/2022 | Denver, CO | Buell Theatre |
| Wed, 12/7/2022 | Albuquereque, NM | Kiva Auditorium |
| Fri, 12/9/2022 | Tucson, AZ | Centennial Hall |
| Sat, 12/10/2022 | Rancho Mirage, CA | The Show at Agua Center |
| Sun, 12/11/2022 | San Diego, CA | Civic Theatre |
| Mon, 12/12/2022 | Mesa, AZ | Mesa Arts Center |
| Tue, 12/13/2022 | Mesa, AZ | Mesa Arts Center |
| Thu, 12/15/2022 | Los Angeles, CA | Hollywood Pantages Theatre |
| Fri, 12/16/2022 | Los Angeles, CA | Hollywood Pantages Theatre |
| Mon, 12/19/2022 | Seattle, WA | Benaroya Hall |
| Tue, 12/20/2022 | Seattle, WA | Benaroya Hall |
| Thu, 12/22/2022 | Portland, OR | Arlene Schnitzer Concert Hall |
| Fri, 12/24/2022 | San Francisco, CA | Davies Symphony Hall |
PRESS CONTACTS
full coverage communications
Kristen Foster | Kristen.Foster@fullcov.com
Gabi Hollander | Gabi.Hollander@fullcov.com