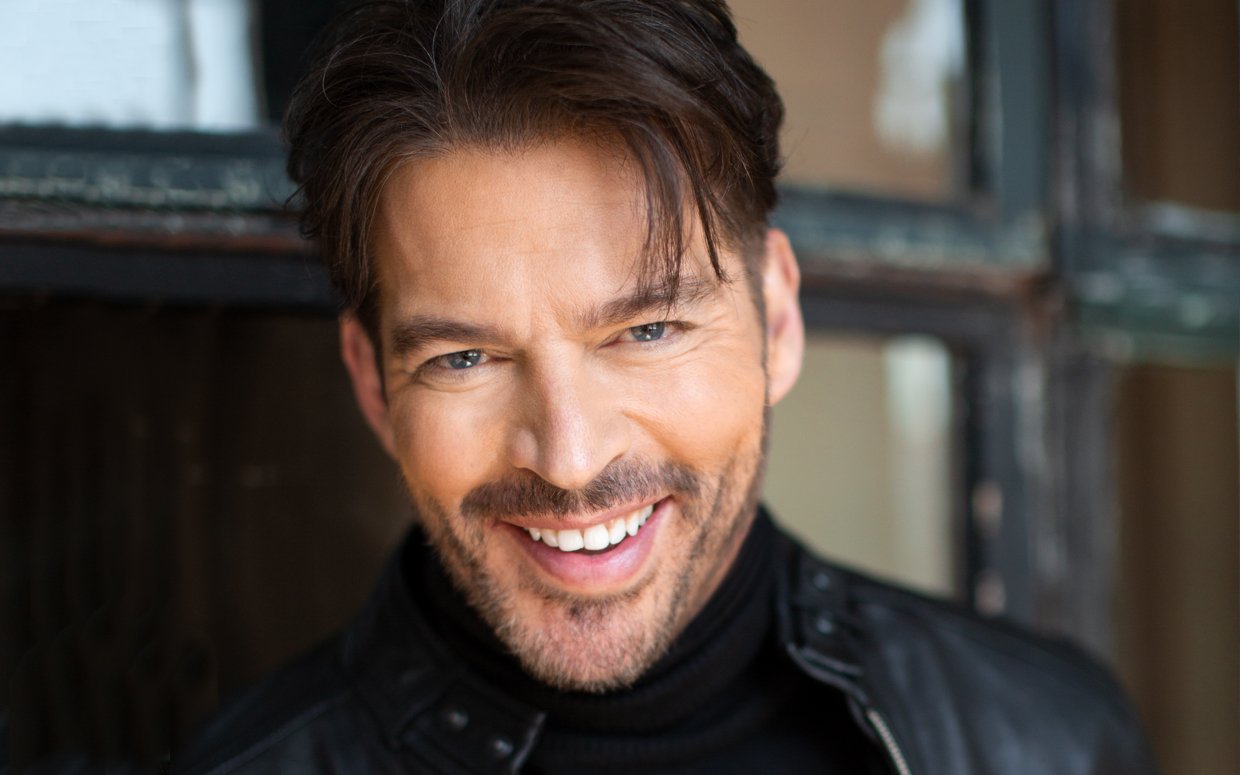 By Mara Reinstein of PARADE
A few months ago, Harry Connick Jr. gave one of his daughters a life lesson that can only be gleaned through years of tried-and-true experience. "She was telling me that her workload can be overwhelming," he says. His advice: Take it one small piece at a time. "If you don't look at what you have to do in its entirety, it keeps you from feeling stressed and defeated."
But sometimes, he says, it's good—even essential—to look at the big picture. Especially around Thanksgiving. "If we have our health, we need to take a step back and realize the ability to do our work and live our lives is an incredible gift," he says. "Sometimes it looks like a grind, but it's not really a grind."
Take Connick's upcoming stage show, Harry Connick Jr.—A Celebration of Cole Porter, which will put him on a Broadway stage eight times a week, December 7–29. The Grammy and Emmy winner, who has sold 30 million albums worldwide since the 1980s, is front and center in a production that encompasses film elements, choreography and a full orchestra. The talented musician-composer conceived it, wrote the script and directs. "It's more of a theatrical experience than a concert," Connick, 52, says. "I just want to get the story across to the audience in a way they may not expect." And, no, it's not a grind, it's a gift—for him and for the audience, he hopes.
The splashy production coincides with his just-released album, True Love: A Celebration of Cole Porter, his first in four years and his 30th overall. Both projects will breathe new life into the legendary composer's Great American Songbook, as the crooner puts his signature touch on Porter's vintage tunes, including "Anything Goes," "Begin the Beguine" and "You Do Something to Me."
"He's always been one of my favorites," Connick says of Porter, who died in 1964. "He's different from George Gershwin and Jerome Kern, because he wrote [both] his own words and music. And he would do things in a very unpredictable manner in terms of melody and structure. [His] songs are just as relevant and passionate today."
To that end, he welcomes audience members who may not be familiar with Porter. "It's not just about the music," he explains. "It's about the people performing it. Look at Duke Ellington and Louis Armstrong—their music was so popular because of the way they played it. I'm not concerned about whether people know who Porter is. My goal is for them to come to the theater and leave feeling better."
Last month, Connick was honored with a star on the Hollywood Walk of Fame—right next to Porter's.
Family First
It's easy to spot Connick in a New York City cafe the morning we meet. He's the one dressed all in black, complete with a New Orleans Saints cap, a nod to his hometown football team. His 6-foot-1-inch frame is so hulking that he looks ready to devour the small wooden table. But he won't be ordering any breakfast off the pastry-heavy menu, just black tea. "I've been on a semi-fasting diet for a year," he says. He only eats between noon and 8 p.m. and sticks to clean, low-fat food. "This keeps me focused without really having to try. I'm a carb addict."
Throughout the conversation, he jokes that his life offstage is just as mundane as his eating habits. His food guilty pleasure? Frozen fruit to make smoothies. Netflix binge? "I don't watch much TV." Go-to exercise? Lifting kettlebells. Self-care splurge? Massages. Vacation spot? Louisiana, which he visits about once a month. He doesn't divulge any vices, either. "I'm the most boring person!" he insists. "I don't really need anything, and I can count the things I need to make me happy on one hand."
Topping his happy list are his wife of 25 years, former model Jill Goodacre Connick, 55, and their three daughters: Georgia, 23, a film student at New York University; Kate, 22, a fashion designer; and Charlotte, 17, who is home-schooled and travels with him so she can see the world. "It's an incredible luxury to be surrounded by women and have their perspective," he says. "So much responsibility falls on the woman's shoulders just by virtue of being a woman. There's childbirth and PMS, and these are big deals! It's important to be in tune with them."
His wife, he notes, volunteered to give up her career to be a full-time mom. At the time, she was a Victoria's Secret model so famous that she appeared as herself on a memorable early episode of Friends. ("A 10-year-old boy just recognized her from it!") They met in February 1990 at an L.A. hotel, where he spotted her walking by the pool. "I jumped out of the pool and introduced myself because we had a mutual friend," he recalls. "I don't know about her, but it was love at first sight for me."
Years ago, the couple uprooted from NYC to New Canaan, Connecticut, so they could raise their kids "with more elbow room." He says with pride that they remain a close unit. Later in the day, they are all going to meet for dinner to celebrate Sarah's birthday. (He'll even eat the cake.) One night earlier, they gathered for Connick's birthday. He and his daughters like to go to the movies together, recently taking in a horror flick (Annabelle Comes Home). And during a dark time in 2012 when Jill was diagnosed with breast cancer, they rallied together in support. (She's been in remission since 2013 and is "doing great.")
Alas, none of his girls inherited his professional passion. "They have musical ears and understand the craft, but they're not musicians per se, because they're so diverse," he says. "I guess I'm pretty lopsided in that respect because I'm music, all the time."
Born to Play
Connick admits that he often muses on the origins of his own musical gifts. His mother, an attorney and Louisiana Supreme Court Justice, played the flute. (She died of ovarian cancer in 1981.) His grandmother was a singer. His uncle was a composer. Connick's father, now 93, was a district attorney of Orleans Parish from 1974 to 2003. "My dad just told me this story about the time he was in the Navy during World War II," he says. "He decided to get on the mic and sing on the battleship while they were out at sea. His captain said to him, 'What are you doing?'"
He also credits his New Orleans upbringing, where live music was everywhere. "I was interested in music at an early age and it was the only thing that came easily to me," he says. "It's not like I was an athlete or a good student." He performed publicly for the first time at age 5. At 9, he performed Beethoven's Piano Concerto No. 3 with the New Orleans Symphony. He takes his phone out of his pocket and scrolls to a throwback photo of him at 8, smiling and mop-topped and sitting at a piano next to grizzled jazz veterans in Preservation Hall.
"I know from the outside it seems amazing, but this was a normal Saturday afternoon for me," he says. "In New Orleans, there's a tradition of young musicians sitting in with older musicians." He never did get nervous taking the stage and performing in front of crowds. Not even when he once looked out into the audience at age 23 and saw Frank Sinatra and Ella Fitzgerald. They were both nice to him and flattering about his talents, in case you're wondering.
Connick got his first taste of mass-market success in 1989 when he covered memorable tunes such as "It Had to Be You" for the soundtrack of the romantic comedy When Harry Met Sally. It led to his first Grammy. With a handsome face to match the smooth vocals, he was soon cast in movies, such as Memphis Belle (1990) and Little Man Tate (1991). "I tried to put my own thumbprint on whatever I was working on," he says.
Since becoming a household name, he has managed to creatively reinvent himself on a regular basis. On the Broadway stage, he composed the 2001 musical Thou Shalt Not and was the leading man in a 2006 revival of The Pajama Game (which landed him a Tony nomination for Lead Actor in a Musical). In 2010, he agreed to be a mentor on the hit singing series American Idol and, four years later, served as a judge alongside Keith Urban and Jennifer Lopez. From 2016 to 2018, he hosted and served as musical director on his own syndicated daytime talk show, Harry.
With each endeavor, he threw himself into the work and fully committed to its success. For Idol, "I took it very seriously," he says. "I studied the songs and refused to fraternize with the kids, and they must have thought I was a real jerk. But I wanted to judge them just on the performance." And before each episode of his chat show, he read every book and saw every movie to prepare for his guests. He also composed every note of music for his in-house band.
Still, he insists he's not the type of person that has to seek out new challenges to feel fulfilled. "It's not like I'm looking for things to do," he says. "The difference is that I love being in the moment and doing what I do. I've suffered physical and personal tragedies along the way. I know what it's like to vomit on a stage because I'm sick and do a show with bronchitis. But if you're complaining about performing, then you're in the wrong business."
Giving Thanks  
Connick will take a much-deserved break on Thanksgiving when his family gets together at their Connecticut home. "We don't do anything special," he says, "but it's a nice time to be reminded to sit down and eat dinner together. I like that."
Per the usual tradition, he and Jill will share the kitchen duties. "Jill loves to cook and she makes pudding and her stuffing based on her mother's recipe," he says. "She's from Texas so all the food is very Southern." He handles the turkey and dressing: "I spatchcock it and put in my usual seasonings." (The next day, he'll take the leftovers and concoct a Louisiana-style turkey gumbo.)
The Connicks—along with his older sister, Suzanna, and Jill's father—will also watch the NFL games on TV and swap favorite family stories. They go around the table and give thanks. This year he already knows what he's going to be grateful for: his family's continued good health and their solid relationships.
But he doesn't need a holiday to count his many blessings. "We all have bad days but it's important to remind ourselves how lucky we are," he says. "I am grateful every day."