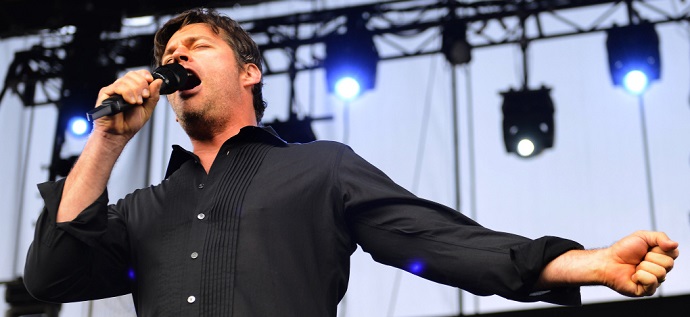 Seattle Times, June 19, 2015
By Paul de Barros, Seattle Times jazz critic
Harry Connick Jr. made his fame as a retro crooner with a swinging big band, but Saturday (July 18) at Chateau Ste. Michelle the debonair singer, actor and American Idol judge returned to his New Orleans roots, performing with an eight piece jump band in a fun, relaxed show that had more in common with Louis Prima than Frank Sinatra.
Dressed in black slacks and shirt and joshing continually with the sold-out crowd — he congratulated Seattle for getting Jimmy Graham for the Seahawks, then joked that his wife would leave him for Graham in a minute — Connick not only sang, but played acoustic piano, electric keyboard, trumpet and even bongos.
One of the best moments was a rippling, rollicking piano rendition of "Junco Partner," dedicated to Connick's early mentor, James Booker. Connick recalled how terrified he was at age 13 to fill in briefly for Booker at a French Quarter club.
Another highlight — pure shtick, but good fun — came when Connick's tailgate trombonist Lucien Barbarin "adjudicated" a mock trumpet duel between Connick and band member Leroy Jones.
The 47-year-old singer crooned a bit, doing "The Way You Look Tonight," "It Had To Be You." and "More," but was clearly itching to launch into a more modern mood, "We're going to get all the romantic songs out of the way first because it's too hot," he joked.
The last time Connick sang at Ste. Michelle he brought his father. This time, he hosted 16-year-old (eliminated) American Idol contestant Daniel Seavey, who sang a spirited "How Sweet It Is (To Be Loved By You)."
Connick previewed three tunes slated for a fall album: a soulful love song titled "Trying to Matter," a jaunty paean to lifelong marriage that could easily be a hit single, "Like We Do," and a rockabilly-ish tune about love at first sight, "When You Smile."
Connick closed his two-hour show with the Allen Toussaint classic "Yes We Can Can" and for an encore jumped on top of the piano as his delighted fans leaped to their feet.
Connick performs at the Chateau again Sunday, July 19.
Paul de Barros: 206-464-3247; pdebarros@seattletimes.com; or follow him on Twitter @pdebarros