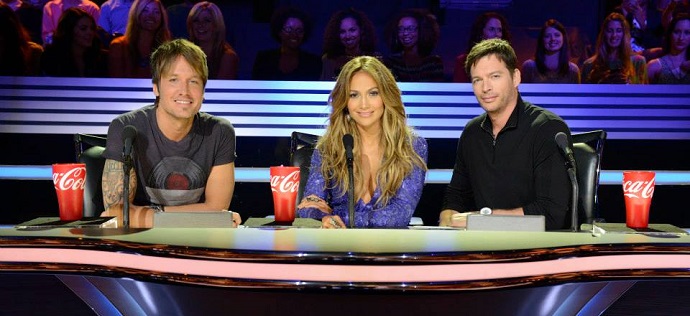 By Alex Strachan, Postmedia News
Harry Connick, Jr. wasn't looking to sell a new album or push his name further into the public spotlight. He doesn't know if American Idol will produce a star this season, but he won't lose sleep over it either way. He agreed to become a mentor and then a coach and full-time judge for a simple, almost quaint reason: He's a fan.
He has been for a long time, ever since that day he was filming an episode of the sitcom Will & Grace, and Debra Messing — an admirer of Idol from Day 1 — asked him if he wanted to join her at that night's live finale, featuring a pair of then-unknowns named Justin Guarini and Kelly Clarkson.
"I've watched it every year religiously since," Connick, Jr. said, earlier this year in Los Angeles. "I grew up in that environment. I grew up with teachers watching you and critiquing you — a lot tougher than anything you see on the show, by the way. I love that environment."
Idol marks its 500th episode Wednesday, with Michigan teenager Jena Irene facing Mount Vernon, N.H. native Alex Preston and Asheville, N.C. aspiring rocker Caleb Johnson to decide who will advance to the two-night finale, May 20 and 21 at Los Angeles' Nokia Theatre.
Connick, Jr., a New Orleans native, master of the Great American Songbook and composer-arranger who has sold some 30 millions albums worldwide, has an abiding love of music and, more importantly, a desire to encourage and nurture new talent.
That's what drew him to Idol in the first place, he says.
Connick, Jr.'s first hands-on experience with Idol behind-the-scenes was as a mentor in Idol's ninth season, in 2010. Farmer's Daughter singer and eventual Idol runner-up Crystal Bowersox later said Idol's mentors were there in a cameo role only: Few bothered to put in time with the singers, except for one: Connick, Jr.
Bowersox later credited Connick, Jr. with making a lasting impression on her as an artist.
Connick, Jr. recalled that his own teachers, including Ellis Marsalis, Jr., were doubtful at first. "They would say, 'You should quit. You don't have talent for this. You should think of another vocation. You're not good enough.' Those were mean things to say. "It's OK to say, though. I was that fan, sitting there, watching Idol, going, 'Why don't they tell them that they can't sing?' I would scream at the television, 'They can't sing!' That's my style.
"Here's the deal: You sign up to be judged by us, and we judge you. I don't care about how you look or what happened in your personal life — that's not why you're here right now. It's interesting to know, but ultimately I'm responding to a performance."
Connick, Jr. is used to swimming against the tide of popular opinion. He's a fervent believer in the benefits of a musical education, for example, even though he admits there's nothing more electrifying than being exposed to a pure, raw, untapped talent.
"Somehow in music, it's OK to not know anything about your craft. I profoundly disagree. I tell every kid who comes in, whether they're educated or not, 'You need to work on your craft.' Passion isn't the issue. My definition of passion is somebody who learns everything they can about what they love.
"We've seen some kids on Idol who don't know what a major scale is. At the end of this process, if they make it that far, I would hope they'd start to say, 'Let me learn as much as I can.' It's going to make them better, more passionate people. It doesn't take anything away."
Connick, Jr. refused to be drawn into the debate about which show is hipper, hotter and more wired into the culture of the times: American Idol or The Voice.
"I was on honeymoon with my wife, and I remember seeing several other couples around. I assumed they were on their honeymoon, too. I promise you, I didn't once look at my wife and say, 'Man, I wonder how they're so happy. I wonder how we're going to stack up against them.' I married the girl of my dreams, and I'm so happy I don't even see the other couples.
"I promise you one thing. This is a blast. It's so much fun. That's the only thing I'm thinking about."