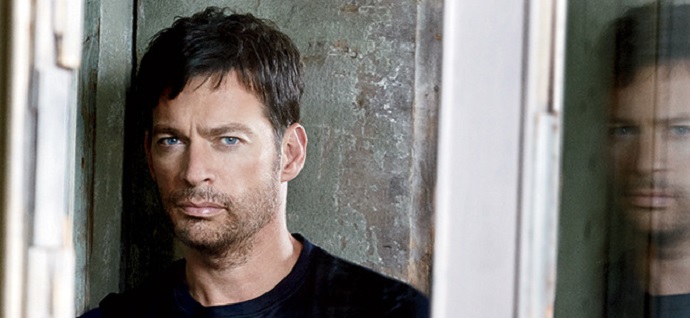 by larry getlen
photography by palma kolansky
If you found yourself sipping a cocktail in the New Orleans club Maison Bourbon on a lazy Saturday afternoon in the early '70s, you might have cast your eyes on a 6-year-old lad, with a shock of chestnut hair, playing—no, jamming—on the piano. You would have seen this child amaze the crowd, grizzled music veterans and slinky waitresses alike, with complex harmonies and chord arrangements erupting in some sort of freaky, fabulous reincarnation of legendary jazz cat Thelonious Monk.
But it was just Harry being Harry. The young prodigy showing off his stuff in its larval stage would go on to become Harry Connick Jr.—pianist, bandleader, crooner, actor, and poster child for the jazz-saturated intelligentsia of his stomping ground, New Orleans. He has won three Grammy Awards and two Emmys, has been nominated for Tony Awards as both a composer and an actor, and, following a stagnant season marked by bitterness and backbiting, returned the joy to American Idol when he joined the show as a judge last season. Not only can Connick play, he can play well with others.
Especially with his family. Cape Cod—where he's had a home with wife and former Victoria's Secret supermodel Jill Goodacre and their three daughters for more than a decade now—is his sanctuary. It is the place where he stops being a celebrity and becomes simply Harry the dad. "Family comes first," Connick says. "If you look at American Idol, last year it was two days a week. That's not that much. I fly out on a Tuesday, and I'd be home Thursday night."
Connick got his first taste of New England at 16, when he spent a summer studying classical piano at Tanglewood in the Berkshires. "It was an amazing place," he recalls, "the best place I knew of, and still know of, in terms of summer programs for young musicians trying to improve their craft." Summers on the Cape, though, are filled with "nothing in particular," he says. "We do everything from going to the movies, to going to the beach, to going to dinner, to staying home and watching TV." Here he re-embraces the New Orleans–style "'s'all good" chillin' that is his birthright. "We do all kinds of stuff. It doesn't really matter."
It's about time Connick relaxed. He paid his dues early on, practicing feverishly to perfect his craft since the age of 3. "I remember having a piano in the house, walking up to it, plunking the keys down, and hearing notes and tones. I was fascinated by that," Connick recalls. "I would play one note, I'd hear something, then I'd play two or three at the same time. Harmonies would come, and I just found that so fascinating."
His parents were lawyers—Harry Connick Sr. spent 30 years as the district attorney of New Orleans—who owned a record store before Connick was born and often brought him and his sister, Suzanna, to see local musicians at clubs that opened before noon.
Connick, who still retains his New Orleans drawl, became completely immersed in music, meeting superstars like Buddy Rich and Frank Sinatra at his father's fundraisers. At 14, he began studying with Ellis Marsalis, patriarch of the Marsalis clan of jazz royalty. "Ellis and my dad knew each other from way back," Connick says. "I studied with him every day, all throughout high school. He was the best teacher I ever had, for sure." Marsalis, he explains, was tough and demanding, subjecting his students to intricate levels of analysis and critique and never letting them get away with half an effort: "When you're up against that kind of scrutiny, you can't get away with anything. There was never 'Oh, you're such a cute, talented little kid.' There was none of that. If you did wrong, 'Go practice it. That was subpar.' And you did."
That discipline is clearly evident on Idol. Connick served as a mentor to the contestants on Seasons 9 and 12 of the hit show, then joined as a judge last year. Following a season regarded as uninspired, his humor and critical intelligence brought a new energy to the star-making machine. "He was the only mentor who really took the time and spent days with us rather than a few brief minutes," says Crystal Bowersox, Season 9's runner-up, who recently performed at Worcester's Mechanics Hall. When she sang Frank Sinatra's "Summer Wind," she says, Connick taught her how to make the song more enthralling by holding the note on the vowel in the word "wind" instead of on a consonant. "He said it was bringing the emotion out far more than what I had been doing, and he was totally right. He's really a musical genius."
This sort of specificity is important, Connick says, because most of the show's contestants didn't have the advantage of intense early training like he did. When asked about the nature of today's musical aspirants, Connick answers without pause: "A lot of talent, no education. I see it with almost everybody that comes to audition. Most of them have no idea what they're doing. If I can bring anything to Idol, hopefully it will be an awareness that education and craft are only going to enhance your musical experience and you as a person."
Connick knows firsthand where a thorough musical education can lead. He moved to New York at 18, played clubs around town, and was soon signed to Columbia Records. But his real big break came from director Rob Reiner, who asked him to write music for the film When Harry Met Sally, an opportunity that boosted Connick from opening act to headliner and fueled his path to stardom.
At around the same time, the casting director for the 1990 film Memphis Belle caught Connick playing in Los Angeles and cast him as an Air Force sergeant. "I got an inside look at making movies and whether that was something I wanted to do—and it was," he says. Since then, he has acted in more than 20 films, including the 1996 blockbuster Independence Day, and earned acclaim playing Grace's husband Leo on the NBC hit Will & Grace. He has also demonstrated a command of stage acting, earning a Tony nomination for best actor in a musical for his role in the 2006 Broadway revival of The Pajama Game.
Connick says the satisfaction he takes from music and acting comes from the ways in which they mine similar creative impulses: "The specifics are different, but the source is the same. [It comes from] going places that may be uncomfortable, or exciting, or mysterious, or intimidating. It comes down to how you interpret it, especially with other people. That's where the fun begins, because you're able to travel places in your mind that can be very exciting, or embarrassing, or humiliating, or empowering. They're heightened experiences that are very intense."
From Maison Bourbon to the American Idol stage, Connick's talent has served him well. Mix that with his zest for novel experiences and we can look forward to seeing even more sides to this versatile artist. Except, of course, when he's indulging in his bliss: doing "nothing in particular" with his family on the Cape.
Read more at http://bostoncommon-magazine.com/personalities/articles/harry-connick-jr-talks-american-idol-judge#ZwCvZCBoCSp30MHr.99