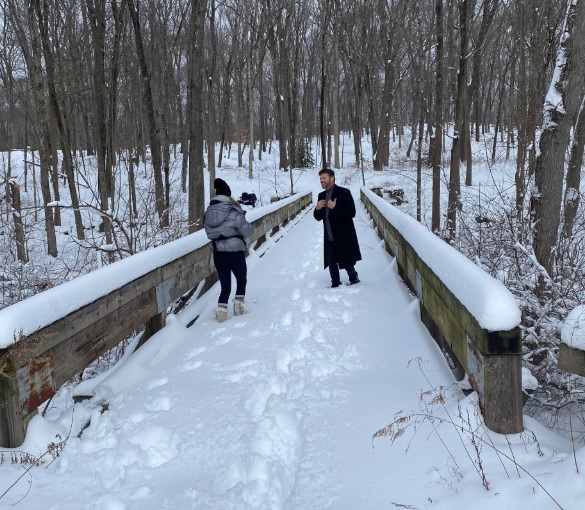 By Dewayne Hamby of Reel Faith with Dewayne Hamby of Patheos
When Harry Connick, Jr. sings "My life has changed, my world is uncertain" and "I don't have all the answers" on the new release "Alone With My Faith," the words are more than lyrics on a sheet; they're a deeply personal lament. Like the rest of the world, the Grammy and Emmy Award-winning singer-songwriter-actor battled his own doubts, disappointment, and loss through the Covid-19 pandemic. He carried those emotions to his home studio and began constructing what would become his first full-length inspirational release.
Connick ]found comfort and solace in the hymns of his youth, such as "How Great Thou Art" and "Amazing Grace" which he has incorporated into his concerts through the years. At the same time, he processed his moments of doubt through original compositions.
"(I thought) maybe I can record some, some of those gospel songs, but I don't want them to all be necessarily celebratory and uplifting because quite honestly, I wasn't feeling so great," he says.
The eight-month recording process, like life, had its up and downs, its moment of joy and sorrow. While the months rolled on, Connick was hearing news of friends who were struggling with the virus and some who had died because of it. With no live shows to do or anywhere else to go, he buried himself in his art, perfecting what would be an intimate musical snapshot of his life through the pandemic.
"I was questioning my faith a lot of the time," he admits. "So, it became this collection of music that felt like a journal more than an album."
"Be Not Afraid," which incorporates the beautiful music box sounds of a celeste, is a soul-stirring song of Connick's youth that provided him clarity and direction. During recording, the pointed message would at times be overwhelming. Even now, he gets emotional thinking about the song, which he hopes will comfort others as it did him.
"I just think it's a beautiful message," he said. "I remember singing it alone, and getting to the line, 'You can stand before the power of hell, and death is at your side' but 'Be not afraid. I am with you.' I had to stop singing because I'm not just singing. We're in a pandemic right now. And I need You to be with me right now."
Beyond the lyrics, Connick also meticulously crafted the instruments and melodies to symbolize the journey the song takes. On "Be Not Afraid," the simple instrumentation is inspired by the sincerity of the song's message. On the title track, "Alone with My Faith," he musically climbs up a mountain then reaches its peak, where his efforts to persevere pay off.
"The point was to say my faith isn't always perfectly simple," he said. "Sometimes it's disappointing because it's not there in the way that you want it to be there. Sometimes it's a little dissonant and brash. It's all those things. So that's kind of what that song was, it was about being alone with my faith. Then the bridge of the song actually serves as a bridge, because I'm saying, "' just got to work a little harder, dig a little deeper, look closer at myself, take my time, keep my faith.' And there's a key change, which means, 'I made it to the other side.' I don't know where I am, but I know who I am. And I know where I stand."
Using his extensive musical talents, when the album says "Alone," he was literally alone. Connick played every note on real instruments, arranged the recording equipment and microphones, and recorded all vocals, including a large, rousing gospel choir that accompanies his lead vocals on the classic "Because He Lives." It's a remarkable musical moment that has to be heard to be believed.
"There's a lot of vocal parts back there, sometimes 25 or 30 of them and you sing a part, then you go back and sing the exact same thing," he said. "Because you're human, there's going to be intonation issues and phrasing issues. Then you sing it three times, and it kind of has this cool sound. Then you go and add the next harmony part. Some of them have five or six or seven or eight harmony parts. That's the choir on the album."
When he finished the recording, Connick took his musical "journal" to his record company, with full disclosure that it wasn't the average compilation.
"I said, 'I have this album, it's me, it's all me, and like it or not, it's an honest kind of reflection of what I'm feeling right now," he said. "And they said, 'Wow, this is cool. This is different.' So here we are."
"Alone with My Faith" may be Connick's first collection of inspirational and spiritual songs, but it's hardly the first time he's spoken about his Christian faith. He's incorporated hymns and uplifting messages in concerts and during his daytime talk show, and in one memorable moment, managed to get Oprah Winfrey to belt out "I Surrender All." Faith is an integral part of his life and personality and even though he admits he's not "guns-blazing" and outspoken, he doesn't hesitate to bring it up. In fact, he continues to be surprised anyone else has any hesitation about it.
"We are all brothers and sisters, so I never had a hard time talking about my faith," he said. "People talk about why you can't talk about your faith anymore. I've never had a problem with it. People have always been respectful of me, and what I believe, and I respect them and what they believe."
"Alone with My Faith" will release March 19 from Verve/Capitol CMG. For more information, click here.