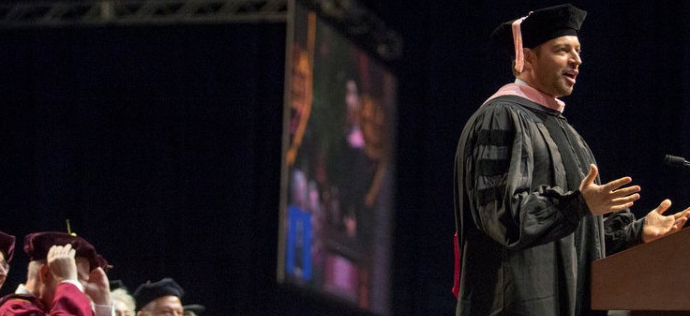 As 750 graduating students from Loyola University walked across the stage Saturday morning at the Mercedes-Benz Superdome, they had Grammy-winning musician and actor Harry Connick Jr. cheering them on.
The New Orleans native was also celebrating with them, for the school bestowed an honorary doctorate in music on him. Because Connick dropped out of Loyola after one semester 30 years ago, it was the first time he received a degree of any kind from the school.
"I can hold my head high, because you and I have something in common: It may have taken me 30 years longer than you, but all of us get degrees from Loyola today," Connick, 48, told an applauding graduating class.
During his career, the singer and pianist has sold 28 million albums and had more No. 1 records than anyone else in the history of U.S. jazz charts. He also has won three Grammy Awards and two Emmy Awards and is debuting a new live-music entertainment show called "Harry" this fall.
Connick isn't known just for his talent or for co-founding the Krewe of Orpheus, one of Carnival's superkrewes. In New Orleans, he's become widely recognized for his philanthropic work. Among his accomplishments is the construction of the Musicians' Village in the Upper 9th Ward, which he co-founded with fellow musician Branford Marsalis after Hurricane Katrina.
On Saturday, Connick took a break from his busy schedule to give the day's commencement speech, which got off to a lighthearted start when he joked about his experience with Jesuit education.
Although he graduated from Jesuit High School, he never earned academic honors there, and he spent only one semester at Loyola before leaving to pursue his music career in New York, he said.
"Today represents the most important day in your academic career. It's the culmination of all of your years of dedication and hard work. This is your graduation day," he said. "This is the perfect time for (Loyola President) Father (Kevin) Wildes to turn the mic over to a college dropout who didn't know what a commencement address meant."