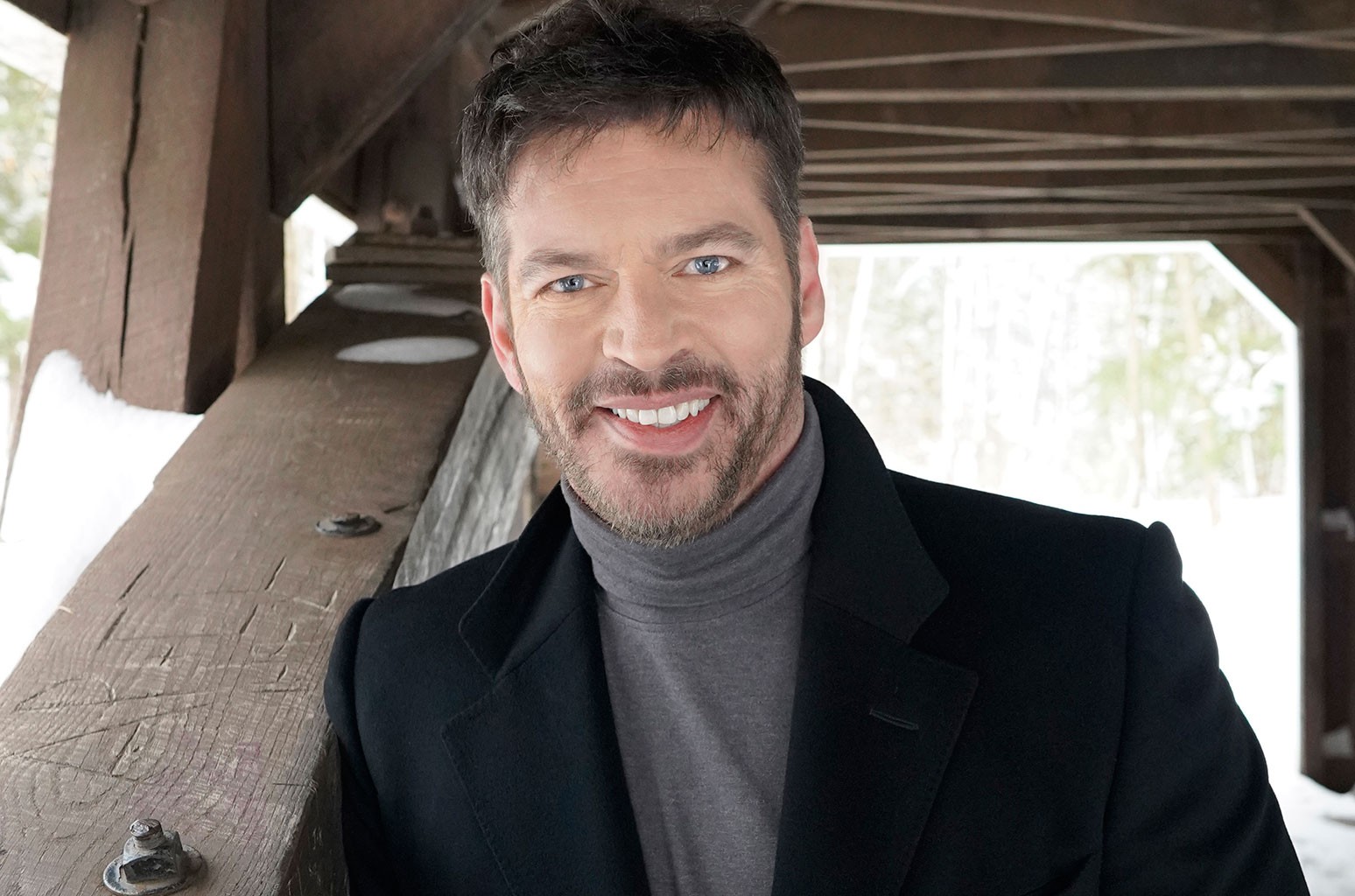 By Katie Atkinson and Keith Caulfield of Billboard
Before "Alone With My Faith" comes out March 19, the New Orleans crooner talks to the Pop Shop Podcast about making the project entirely on his own & being up for best traditional pop vocal album Sunday.
Back in 1990, Harry Connick Jr. was nominated for -- and won -- his first Grammy. He was nominated again the very next year and won yet again, taking home one of three awards he was up for in 1991.
It's a pretty spectacular start to a music career that endures to this day, but instead of expecting to just show up at the Grammys year after year and pick up new hardware, this is what Connick has to say when revisiting those first two ceremonies: "So you received two Grammys early on and then it was, like, a 30-year drought," he laughs on our Grammy preview episode of the Billboard Pop Shop Podcast (listen below). "It reminds me of [when] Beyoncé released an album a couple years ago and she didn't tell anybody about it or nobody knew about it, and they said, 'Beyoncé released an album that nobody knew about!' I said, 'I've been releasing albums that nobody knows about for years!'"
He jokes, but in actuality, the New Orleans crooner now has three Grammy Awards to his name (he won again in 2002) and 15 total nominations -- including one at Sunday's show: best traditional pop vocal album for True Love: A Celebration of Cole Porter. While his first priority is making great music, Connick admits the nominations never get old. "I'm not really thinking about Grammys when I'm recording, but when Grammy time comes around, I think we all think about that and what an incredible thrill and honor it is," he says. "So I pinch myself. It's a really big deal."
Looking back on his early wins, Connick remembers just how massive Music's Biggest Night truly felt back then. "You have to understand, that was before cell phones, social media. I mean, there were like two or three ways to get your music out there: TV, radio, billboards and print. So it had an excitement about it that is different today," he says of the 1991 ceremony, where he won best jazz vocal performance, male for his We Are in Love album and attended with his then-girlfriend and now-wife Jill. "Now, you see everything behind the scenes, and everything is so immediate and maybe more casual, but then, it was like the biggest night in the world. So it just felt a little bit different, I remember that."
This year's ceremony is sort of a full-circle moment, given that his first Grammy win was for the When Harry Met Sally... soundtrack -- on which Connick famously covered standards like "It Had to Be You" and "Don't Get Around Much Anymore" -- and his current nod is for True Love, an album of Cole Porter covers. "The great thing about great songs and great songwriters is there's an inherent architecture built into these songs," Connick says. "So you can take a song like 'Mary Had a Little Lamb' and you could have any band in the world perform it -- you'd still know it was that song. Cole Porter songs are like that. So I think starting from that place of great songwriting, it allows me to interpret them how I want to."
Up next, Connick is set to release his 27th album, Alone With My Faith, which was entirely conceived of and recorded during the ongoing pandemic. Below, we break down how he chose the mixture of gospel standards and originals for his first faith-based project, how he envisions performing these songs once he can tour again, and whether the album will resonate with fans who don't share his spirituality.
How the idea for Alone With My Faith was born: "I was on tour, just about a year ago. And mid-March, the tour got canceled and the whole world kinda shut down and I came home and was locked down and wondering what was gonna happen. And I wanted to make some music, so I started writing music and thinking about music that comforted me, and I found that a lot of the music that I was writing had to do with my faith, or maybe even lack thereof sometimes. I recorded one song, I wrote another song and recorded it, and I started to say, 'Wow, this could be kind of a snapshot of what I and maybe a lot of other people are going through.' So that's kind of how it started, and it took probably eight months to record the whole thing."
Did he really play every instrument on the album? Connick is best known as a vocalist and pianist, but given the socially distanced circumstances, he was truly a one-man band on this project -- and that included the album's omnipresent organ. "It's not a pipe organ, but there's a few different organs that I have at home, and it's called a Hammond organ. And it's a real organ like they play in church, and what was important to me was that I didn't use any what they call 'soft synths.' I didn't have a little MIDI keyboard and pick an organ sound and a bass sound. Every instrument you hear is an actual, real instrument. The trumpets, the saxophones, guitars, bass, drums -- all of that stuff is real. Even the electronic instruments are real synthesizers and electronic instruments, so that was important for me to give it the kind of sound that it has."
And all those harmonies? Those are Harry too: "When you're singing some of the bass parts, it's maybe a little exaggerated, and when you're singing some of the super high parts [too]. You don't want every part to sound exactly the same. So sometimes I would change the shape of my mouth or change the pronunciation a little bit just to make it sound more diverse. .. You sing one part, and then you sing it again, you sing it again. So you've got three of that part, and you just keep adding and adding and adding. Before you know it, there's 30 parts, and you're like, 'Oh, OK, let's move on.' It's fun."
How he chose the project's faithful track list: "I just picked songs that kind of popped into my head. 'How Great Thou Art,' 'Old Rugged Cross,' 'Be Not Afraid,' 'Old Time Religion' -- I could have kept going. There are so many great songs. ... 'How Great Thou Art' -- what is God's art? It's the rolling thunder, it's the stars, and it's also maybe some New Orleans piano. [Laughs] You know, he created all of us, and let me just do it this way. And that's kind of the way it felt. So the whole album was just done based on the purest feeling I had and what would that sound like musically."
On working with his daughter Georgia on the album cover & "Amazing Grace" video: "I'm real close to my family. Jill and I have three daughters, and Georgia is a director and photographer, and she shot the album cover, she shot the video, directed it, edited it, picked the locations ... and got the fire marshal and made sure we had the right permits to shoot there. As a father, it was amazing. And as an artist, to collaborate with -- well, first of all, to collaborate with anyone during the pandemic was a thrill, but to collaborate with someone as brilliant and artistically full of life as Georgia was really awesome."
On writing the new song "All These Miracles" for the album: "'All These Miracles' is about my stopping to recognize things that we may not recognize as miracles. I remember -- we were just talking about Georgia. When she was like a year and a half or 2, I was gonna take her to the park. And we got into the driveway and there was gravel in the driveway, and you know how kids squat down with their bottom kind of touching the ground? She did, and she picked up a piece of gravel and she was looking at it. And I'm like, 'Come on, Georgia! We're going to the park!' And I was kind of impatient. She was ignoring me and just looking at this little pebble. And it kind of occurred to me: She's never done that before. She's never seen that before. There's a lot of miracles around us. ... If you believe that, and I do, they're really miracles. And I try to be present and aware of that as much as I can."
When he tours, will he perform the songs alone or invite some friends? "Maybe there'll be some opportunities to play solo and kind of loop everything, or maybe it's some event where they happen to have a 40-member choir there and I would teach the choir the parts. It's everything in between. I haven't really thought about it, but that will be fun when the time comes to figure out: How would I present this album onstage? I'm almost positive it wouldn't be by myself, only because there's better bass players than the way I play bass and there's better trumpet players than the way I play trumpet. [Laughs] There's a lot of good musicians out there, and I could use their help."
On whether the album will resonate with his non-religious fans too: "My deepest hope is that people will listen to it no matter what. I have friends who are atheists; they don't really believe in the concept of faith or God, and I'm thinking about a couple of them in particular who might enjoy this album just for the music. And then there's other people who are Christians who I think will be able to resonate with some of the Christian songs, and I think of my Hindu friends and Buddhist friends and all of these different faiths -- I think there's something on there for them too. Although I don't spend a lot of time thinking about it, I would hope that it can resonate with people beyond the Christian faith."
Also on the show, Katie & Keith are joined by original Pop Shop Podcast co-host Jason Lipshutz to talk about what exactly Sunday's awards show will look like, what performances we're most looking forward to, and what surprises might be in store.