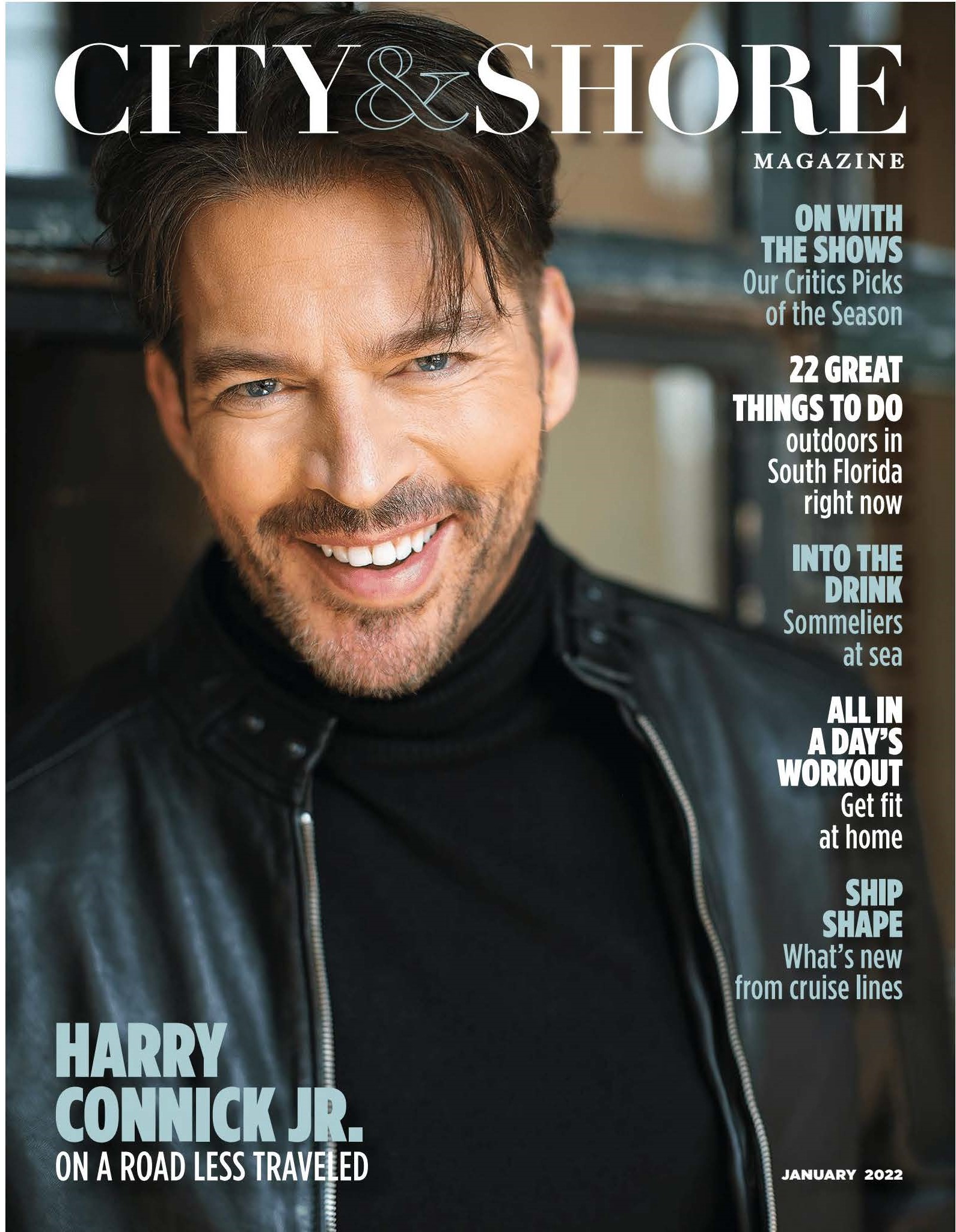 By Greg Carannante of City & Shore Magazine
Harry Connick Jr. is that rare entertainer who's been able to sustain a marriage to music for over 45 years, keep a Hollywood mistress for more than 30 of them, and indulge numerous dalliances with TV and Broadway along the way.
And he's not about to stop.
"There's some really fun and exciting things coming up in the very near future that I cannot wait to talk about," he says in advance of his concert this month in Fort Lauderdale.
Metaphors aside, of course, Connick's 28-year marriage to Jill has given them three daughters, and they — along with his faith — are paramount in his life.
"Although I may question things like any normal person, I believe in God, and my family comes first, and that's where I stand on things. And that's worked well for me my whole life and I plan on continuing to live my life like that."
It also worked well for him on his latest album, Alone With My Faith, which could bring Connick a Grammy this year for Best Roots Gospel Album. Among 16 nominations, it would be his fourth win since 1989, when Harry met the big time with When Harry Met Sally.
On Jan. 28, Connick and his seven-piece band will play the annual celebration and benefit for the Broward Center for the Performing Arts, a concert tradition that has showcased such prestige performers as Tony Bennett, Josh Groban, and Steve Martin and Martin Short. The Friday-night concert will be a special payback for the COVID-cancellation of Connick's 2020 show there. His last local appearance was two years earlier, when he performed "A New Orleans Tricentennial Celebration" at the Seminole Hard Rock.
However, when he steps onto the stage of the Au-Rene Theater, Connick won't be bald-headed like he was the last time he was seen onstage. That was in last month's Annie Live! on NBC, now streaming on Peacock, in which he donned a bald cap to play the billionaire with the big heart, Daddy Warbucks. His voice is still clear and soothing as water, but it was a disconcertingly domed and different Harry Connick Jr. than we've seen before.
Different, however, is where Connick lives. You'd think he would have dipped his artistic toes into plenty enough pools of inspiration by now. You'd think it'd been enough to have recorded over 30 albums and appeared in 20 movies, most recently last year's mystery/thriller Fear of Rain. You'd think it'd been enough to have composed and starred in his own Broadway show, a 2019 tribute to Cole Porter; to have hosted his own eponymous, Emmy-nominated talk show as well as the recent CBS "Grammy Salute to Unsung Heroes"; and to have actually conjured an honest-to-God community from the ashes of Hurricane Katrina in his New Orleans birthplace.
You'd think.
Actually, that doesn't even begin to cover it all, but at age 54, Connick alighted on something different again. His first Gospel album, Alone With My Faith, was released last year, expanding upon the new genre of lockdown recordings. The collection of hymns and original compositions emerged from the solitude and personal losses of COVID. And it's as impressive for his having arranged all the songs, played every instrument and sung every voice as it is for not sounding like someone said, OK, let's do a gospel album now.
It's a sincere soul-searcher of a performance, with a spirit kindled by the introspections of the opening title cut. Layered with dollops of dissonance and surprise, distinctive arrangements range from Connick originals like the holy-rolling hoedown God and My Gospel to solemn hymns like Panis Angelicus to traditional Gospel like Old Time Religion, spiced with a rousing Dixieland treatment.
The Big Easy has, of course, colored more than a fair share of Connick's repertoire — going all the way back to his 1977 debut album, Dixieland Plus, recorded live in the city when he was only 10. But while many artists are identified with their hometowns — Billy Joel with NYC, Snoop Dogg with LA, the list goes on — not many are tethered to them the way Connick is with NOLA. It's something that goes above and beyond albums and tours that celebrate the city's musical heritage. It eclipses his work on 2005's Concert for Hurricane Relief telethon. And it culminates in Connick's most abiding post-Katrina contribution, Musicians' Village.
Connick devised the community in 2006 with fellow musician Branford Marsalis, whose father, Ellis, was one of Connick's earliest teachers (and an early victim of COVID). Its eight acres comprise over 80 affordable, Habitat for Humanity-constructed homes for displaced musicians, while its centerpiece, the Ellis Marsalis Center for Music, provides services to underserved youth and musicians. For their efforts, the duo received the S. Roger Horchow Award for Greatest Public Service by a Private Citizen in 2012.
Connick's continuing work with Musicians' Village only sweetens his image as, basically, one heck of a likeable guy. In a recent conversation with City & Shore, resonating with his "Naw-lins" accent, that's exactly how he comes across.
*****
What's it like to be touring again?
We actually went out this summer for about a month, so it was nice to get out and kind of test the water. This tour we're only doing a few dates, but you know, it's funny — I think a lot of people can probably agree with this — it felt like we just lost a year and a half. Like we went through a time warp. I mean, it felt totally normal, other than at that time everybody was in masks and we had to do a lot of testing. I guess when you do something your whole life, you just kind of jump right back into it. So it felt really good and comfortable, and hopefully we'll have the same kind of feeling on this tour.
What was the Annie Live! experience like?
I had a great time. It was an unusual experience because it was a combination of two different things that I love to do. It was Broadway and it was also live television. I had never done a Broadway show on live television at the same time. It was high pressure, which is what I like. It was really intense, and a really talented group of people. So it was a ball.
I imagine you never expected to be playing Daddy Warbucks one day.
No, it's funny. I'm so familiar with that show and I've seen it so many times, it just never crossed my mind that it would be something I would be asked to do. And when the opportunity came up, I was just thrilled about it because I got a chance to put my own spin on it, and I really had a great time with it.
How did you like being bald?
It was definitely a vibe. It was cool to put the bald cap on and experience that. I had a choice of whether to do it or not. I decided to go for it and I'm glad I did. That character is really cool.
It was funny that your bald cap invoked a bit of roasting on social media.
Oh, I couldn't really tell you, man. I don't read a lot of stuff online, but if it did, it was all in good fun and, you know, that's show biz.
Some of the songs on your new album sound like they came from someone who's gone through a spiritual awakening. Was that the source of the inspiration?
Well, not particularly. I can certainly appreciate how you would say that. It's not that it represents anything different spiritually for me. My faith hasn't really changed since before I did the album, but what this was, was a documentation of my faith. Sometimes it's firing on all cylinders and sometimes I question things, and I had never done an album about that. When the pandemic came along, I found myself having some time to think about things in a way that I hadn't thought about them. It forced me to examine things really closely for a long period of time. I started writing down some ideas and decided to make an album out of it. So in that way, it was a new experience. And I just hope that people can find some meaning in it, you know, like I did.
Would you say it's your most personal album?
Probably so. There's elements of personal experience on just about every album I've done, but this one was completely borne out of an examination of my faith, which is something that I talk about when I'm asked about it, and I'll play spiritual songs onstage. But I had never really taken a deep dive into all the aspects of it. So you could safely say it was my most personal album.
Are you doing many numbers from the album on this tour?
It depends on the night because the set usually changes. Some nights we might do one or two, some nights we might do more.
It's amazing the way you put it all together — singing and playing everything. It's hard to imagine one person doing all those voices.
I use computers and computer technology for a lot of stuff, but I didn't use them in terms of instrumentation and vocals. And sometimes there's 30 voices just stacked one on top of another. So it gives a really big sound. If you got time to do it — and I needed the time because I was actually acting as an engineer, too — it was really a fun process. It was very, very, very slow, but I liked it.
And there were no digital samples, right?
Oh, no. I have a real strong feeling about that. The closest thing I got to using anything digital was old analog synthesizers. There were no digital instruments. Those are all real instruments. The only thing digital was the recording process.
In the title song you sing the line, 'I know who I am and I know where I stand.' If I may ask, who are you and where do you stand?
I think that means in my totality I'm complex like the rest of us, and some days you're gonna feel really good about things and some days you're not. And I know that's who I am. I'm not perfect. I'm not somebody that feels confident all of the time. But I do know what I believe. I have strong faith. I have a great belief in my family and my friends. Those are the things that are important to me. If I prioritize the things that are most important, everything else kind of falls into place. And I appreciate the question, by the way. The fact that you listened to that really means a lot, because when I was in the studio by myself recording, it was hard to imagine that somebody would be listening to it because it was such a personal process. But the fact that it got recorded, made it to your ears, and then you have an interpretation of it, that's not something I take lightly.
You take so many of the songs to such different places. There are a lot of surprises.
I get driven by the lyrics … what is the song saying? For this album, it was about how can I try to paint the most vivid picture of these songs? Some of them are pretty basic, like Because He Lives, but other songs like The Old Rugged Cross, I mean that's a serious, serious lyric. I wanted to treat it with the utmost respect and that's kind of what came out. I don't know if it's right or wrong, but that's what I heard. I think that's important, to try to not just take the beaten path on stuff.
You live in Connecticut now, but do you get back to New Orleans often?
I go down probably once every three or four weeks, usually to see my dad. And I'm always checking on the Musicians' Village, seeing how things are going.
How is it going there?
It's going great. It was tough keeping our employees there during COVID and keeping the students at the Marsalis Center, but we were able to do it. Thank God we have a great group of people who believe in it as much as we do.
When listening to some of your vocals in Annie Live!, your voice still evokes a young Sinatra to me. After all these years, does hearing me say that make you feel good or are you just over it?
You know, I've never been over it. I mean, we're talking about arguably the greatest popular singer that ever lived, certainly one of 'em, and to be compared to him is such an honor. I know who he was, and I know who I am in terms of musicality and what we do. And there are certain things that overlap — we're both high baritones that have sung some of the same songs — but there's so many differences that I don't really spend a lot of time comparing myself to him. We're just completely different musical minds. But, yeah, I take it as a huge compliment.
Do you have any movie projects coming up?
Yeah, I got a lot of stuff going on. I'm not at liberty to talk about it just yet. It's a new world, and I've had some time to think about ways that I would like to participate in how people get their entertainment. I think I have some really fun ideas and, and before long I'll be able to share 'em with you.
Oh, great. You're talking about more than just movies?
Movies, Broadway, television, recordings, everything.
So … the whole Harry Connick Jr. thing.
The whole thing.