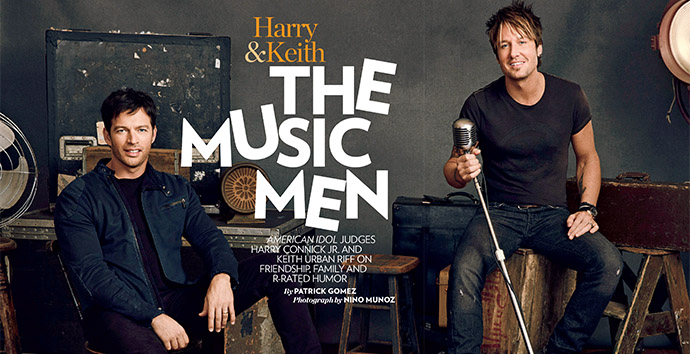 People Magazine - April 7, 2014
Story by Patrick Gomez, Photo by Nino Munoz
Harry Connick Jr. and Keith Urban may already be happily married to their soulmates—Connick to model Jill Goodacre and Urban to Nicole Kidman—but the 46-year-old musicians have found kindred spirits in each other. "It's like Harry and I play together without instruments," says Urban, who diplomatically describes working on this season's American Idol judging panel with Connick and Jennifer Lopez as "certainly different" from sitting between Nicki Minaj and Mariah Carey last year. Adds Connick: "We have a mutual respect—and we really like each other!" The two of you often sound like an old-school comedy team.
HARRY: Keith and I both love puns and wordplay. We are always trying to have some one-upmanship. I think he has me beat so far this season.
KEITH: I don't think so.
HARRY: No, it's true.
What was the best part of traveling to the audition cities together?
HARRY: I remember playing with Jen's kids, and Keith had some genius jokes that never made it on air.
KEITH: I wish there was a late-night channel that showed unedited clips of Harry. It was crazy funny, but not PG.
Are your kids fans of the show?
HARRY: [Georgia, 17, Sara, 16, and Charlotte, 11] love it!
KEITH: [Sunday, 5, and Faith, 3] are just getting into it, but they've both been here to the set.
Do you share parenting advice?
HARRY: All you can do is try and make them better versions of you and give them love. Keith's girls are so lucky to have him; he's the sweetest guy.
KEITH: I'm very lucky to have kids with Nic. She runs everything.
HARRY: I do all of that in my house.
KEITH: Yeah?
HARRY: No. I don't do any of it!
Any plans to perform together?
KEITH: Definitely! Maybe a duet. I think we should just jam on a riff.
HARRY: I don't do that, so if you could just write some stuff down . . . [laughs]
KEITH: Fine, I'll do it with Jen! I think she'd be good on the congas.