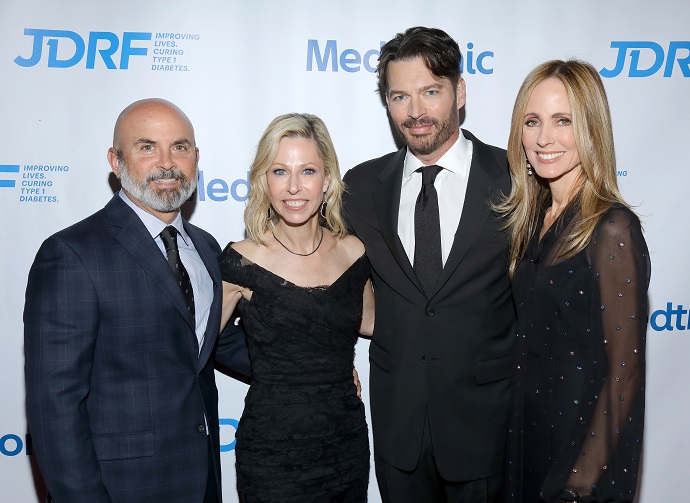 Harry Connick, Jr. Brings the Music; Marc & Robyn Sidoti Are Honored; Dana Walden, Austin Basis, Dame Dash, Jon Platt, Eric Tozer, Derek Theler, David Osmond Among Guests at the Annual Imagine Gala, Hosted by KTLA's Frank Buckley
 
BEVERLY HILLS, May 7, 2019 – JDRF Los Angeles held its annual star-studded Imagine Gala on Saturday evening, May 4, 2019 at The Beverly Hilton Hotel, raising over $1 million to support JDRF's life-saving research to cure, treat, and prevent type 1 diabetes (T1D).  This special evening featured an intimate musical performance by Harry Connick, Jr. Hosted by Frank Buckley, co-anchor of KTLA's Emmy Award-winning Morning News, the Imagine Gala was attended by Dana Walden, Austin Basis, Dame Dash, Jon Platt, Eric Tozer, Derek Theler and David Osmond, among others. Approximately 500 entertainment executives, celebrities, top business executives, community and civic leaders, medical professionals and philanthropists came together to support JDRF (formerly Juvenile Diabetes Research Foundation), dedicated to improving lives and curing Type 1 diabetes in children and in adults. Since its inception in 1970, JDRF has funded virtually every major breakthrough in diabetes research.
Said Judy Ranan, Executive Director of JDRF Greater Los Angeles, "We appreciate all the friends and supporters who shared this special evening with us. It was a room full of warmth, hopes and generosity.  Together we raised over $1 million with the goal of support cutting edge research to find a cure for type 1 diabetes."
 
Highlighting the gala was a performance by Harry Connick, Jr. and his band. To the delight of all in the room, Connick invited to the stage from the audience a number of children with T1D, praised their courage and strength, and mentored them in real time to deliver a moving performance of "You Are My Sunshine."
 
Adam Stewart presented Marc and Robyn Sidoti with the JDRF 2019 honor for their dedication to the JDRF's vision of finding a cure and for their leadership and commitment to the cause.  When their daughter Juliet was diagnosed at seven years old with T1D, Marc and Robyn made it their mission to help eradicate the disease.  Marc is a board member of JDRF LA Chapter and Robyn is a member of the Imagine Gala committee. The Sidotis are also passionate supporters of JDRF Los Angeles One Walk, they started their team, Hoolie's Heroes in 2017 to honor their daughter.
 
"We are thrilled to be honored by JDRF for a mission that means so much to our whole family.  Thank you for helping us make a difference in the lives of all those living with T1D," said Marc Sidoti.
 
"With JDRF, we found an all-star team together with a community of experts, parents, advocates and answers to questions. This is what a cure looks like," added Robyn Sidoti.
 
The gala also included a cocktail reception, dinner, silent and a spirited live auction including two adorable puppies generously donated by the  Shabby Dog Rescue that found loving new homes. Other live auction items included an Austin Music Festival package, a Maui Hawaii Vacation, a Super Bowl Trip Extravaganza, an NBA Finals Package, and a World Series Trip.  A Honda CRV, donated by American Honda Motor Company, was also raffled off.
 
The evening culminated with the JDRF's signature call-to-action, Fund A Cure with the help of a number of children with T1D. Fund A Cure is a unique opportunity for 100% of donations received to go to ground-breaking research.  Since its inception in 1970, JDRF has funded virtually every major breakthrough in diabetes research.  The path to a cure for diabetes is as complex as the disease itself, but tremendous progress is being made daily and the goal is in sight. This year's Fund A Cure raised more than $550,000.
 
Returning again as producer of this year's JDRF Gala was Erick Weiss of Honeysweet Creative. The JDRF Imagine gala was proudly sponsored by Platinum Sponsor: Medtronic; Silver Sponsors: Akin Gump, Corday Productions, Greenberg Glusker, Leeds Property Management, American Honda Motor Company, Warner Bros. Television Group, Comerica, MannKind Corporation, City of Hope, Karolyn Allen, Mitchell & Nina Quaranta, Morgan & Carolyn Rector, Amelia & Adam Stewart, Dana & Matt Walden, Kevin & Erin Wehrenberg; Bronze Sponsors: Wasserman Foundation, Pam Shriver; Auction Sponsor: Rae Sanchini & Bruce Tobey; Check In: Megan & Clark Freeman, Karen & Brett Sutherlin; Check Out: Michael Stoler.
 
About JDRF:
JDRF is the leading global organization funding type 1 diabetes (T1D) research. Our strength lies in our exclusive focus and singular influence on the worldwide effort to end T1D. We are improving lives today and tomorrow by accelerating life-changing breakthroughs to cure, prevent, and treat T1D and its complications.
 
JDRF has led the search for a cure for T1D since our founding in 1970. In those days, people commonly called the disease "juvenile diabetes" because it was frequently diagnosed in, and strongly associated with, young children. Later, to emphasize exactly how we planned to end the disease, we added a word and became the Juvenile Diabetes Research Foundation. Today, we know an equal number of children and adults are diagnosed every day. Thanks to better therapies, which JDRF funding has been instrumental in developing and making available, people with T1D live longer and stay healthier while they await the cure.
The Los Angeles chapter is a local resource for JDRF information and events in the area. By connecting with the JDRF Los Angeles Chapter, people touched by or living with T1D are able to find support, community and ways to join the fight to end T1D.  Several of the annual events hosted by the JDRF Los Angeles Chapter are the Imagine Gala, the JDRF One Walk, the Ride to Cure Diabetes and the Type 1 Nation Summit.
 
CONNECT WITH JDRF Los Angeles Chapter: 
Imagine Gala: http://www/.jdrflaimaginegala.org
Website: https://www.jdrf.org/la/
Facebook: https://www.facebook.com/JDRFlosangeleschapter/
Twitter: https://twitter.com/jdrf_la?lang=en
Instagram: https://www.instagram.com/jdrflosangeles/
 
# # #