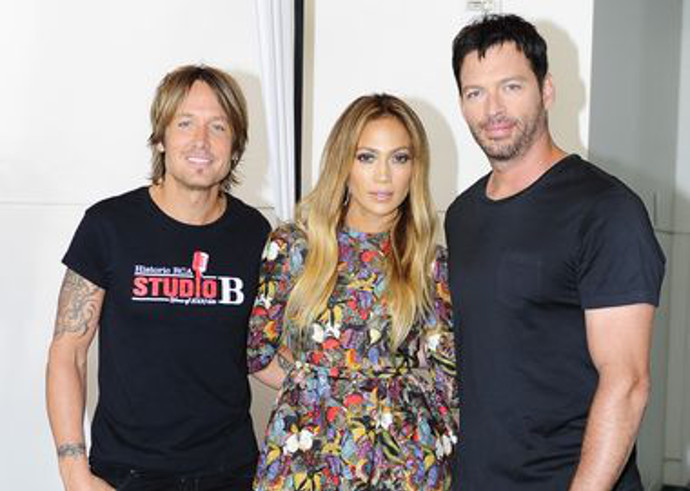 "Jennifer, Keith, Harry and Ryan are the very best in the business at what they do, and I'm thrilled that they are returning to AMERICAN IDOL for another season. Each brings unique qualities and expertise to the team, but they all share the same passion for helping undiscovered singers achieve the American dream," said David Hill, Senior Executive Vice President, 21st Century Fox.
Commented Trish Kinane, President, Entertainment, FremantleMedia North America and Executive Producer, AMERICAN IDOL, "I am delighted that our dream team of Jennifer, Keith and Harry are back for AMERICAN IDOL XIV. Their experience, humor and passion for new talent has made them one of IDOL's strongest-ever judging panels, and coupled with the expertise and charisma of Ryan Seacrest, we are ready to get out there to find the best talent in America."
"I am thrilled our consummate host, Mr. Ryan Seacrest, is returning for Season 14, together with Jennifer, Harry and Keith," said AMERICAN IDOL creator and executive producer Simon Fuller. "Their interaction, warmth and experience made them an absolute joy to watch. I can't wait to see their evolution together continue next season."
AMERICAN IDOL XIV auditions continue in New Orleans, LA (Wednesday, June 25); Uniondale, NY; (Wednesday, July 23); Nashville, TN; (Wednesday, July 30); and San Francisco, CA; (Monday, Sept. 29). Additonally, the AMERICAN IDOL XIV team revs up its bicoastal bus tour. Kicking off on Wednesday, July 9 both in Portland, ME, and Portland, OR, the AMERICAN IDOL XIV Bus Tour will offer dreamers and hopefuls a chance to change their lives forever and begin their own AMERICAN IDOL journey. Hopefuls can also submit auditions online through social media using #TheNextIdol. Find out all you need to know HERE.
The AMERICAN IDOL XIV team also knows that often a talented singer just needs someone to give them extra motivation to help them achieve their dreams. And now, the series will honor these "True Believers" who encourage talented singers to audition with a special AMERICAN IDOL TRUE BELIEVER reward - to the tune of $50,000!  Each contestant has the option to designate a "True Believer" who will have the opportunity to walk away with a cash prize at the end of the season, should that contestant win. Please continue checking http://idol.ly/true-believer-rules for more details, including eligibility and rules.