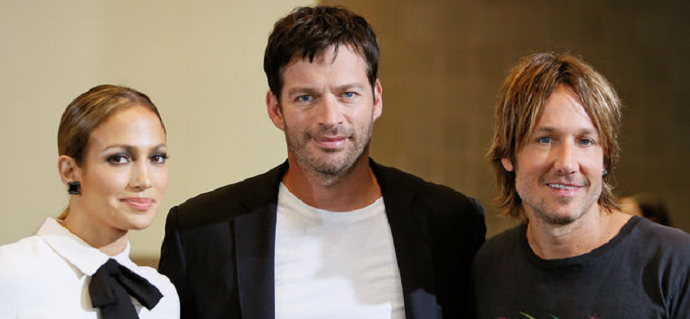 By Dave Walker, NOLA.com | The Times-Picayune on August 27, 2014
Harry Connick Jr.'s ride to the New Orleans judges-round "American Idol" auditions will look familiar to Krewe of Orpheus fans. The sequence, shot Wednesday (Aug. 27), won't air until early next year, but when it does Connick will be seen arriving in Smokey Mary, the engine of an Orpheus float that's an homage to the Elysian Fields Avenue train that ran revelers between the Marigny and the lakefront a century ago. (It's also the title of a 2013 Connick CD, which features a song that tells the Smokey Mary story.)
Connick, one of the founders of Orpheus, was accompanied on the ride – of about 100 yards downriver along Convention Center Boulevard, just far enough for Fox's cameras to capture the scene – by Shamarr Allen and the True Orleans Brass Band.
Playing, of course, "When the Saints Go Marching In."
Before the sequence was shot, Mardi Gras beads and Fox-made posters were dispensed to the crowd, which included some of the singers Connick and fellow judges Jennifer Lopez and Keith Urban would hear later Wednesday. (The first round of auditions, for "Idol" producers, came in June at Lakefront Arena.) The judges had already done one day of auditions Tuesday during which, Lopez said, she'd heard a couple of standout singers. Connick was hoping for better on day two.
"It was OK," Connick said, who with the other judges walked an interview line of crews from Fox affiliates from around the region, including New Orleans' WVUE, before the Wednesday judging began. "It wasn't, like, mind-blowing yesterday. I think today might be a little bit better. I would like to put everybody through that comes from New Orleans. Hopefully, today they'll start showing up."
Said Lopez: "He's so proud of being from New Orleans. He's such that person. He has such high expectations for the talent here. It's been a great trip."
Connick, who joined the show as a judge last season after earlier work as a mentor to the contestants, said production demands limited the time he had to show his fellow judges the place where he grew up.
"I had a chance to drive around a little bit yesterday," Connick said. "I showed them Gallier Hall where we had our wedding reception. We got to go to Clancy's last night." Where, he reported, he ordered the bread pudding and not the lemon icebox pie for dessert. Lopez smiled at the memory of her soft-shelled crab.
Urban was not present for dinner – "I've got a rain-check from Harry to show me around," he said -- having been otherwise engaged entertaining a select club-gig audience at The Parish of the New Orleans House of Blues. The show's 350 tickets were distributed to members of Urban's fan club and listeners of local country outlet WNOE FM-101.1.
One memorable moment of the show, as witnessed by Keith Spera of NOLA.com | The Times-Picayune, was an impromptu duet with one of the attendees. Needing a Miranda Lambert surrogate to sing with him on "We Were Us," Urban threw the singer-search open to the women in the crowd.
"I thought, 'There are a lot of girls in the audience. I bet some of them can sing,'" Urban said Wednesday. "All these hands go up. I said, 'You've got to keep in mind that if you don't know the words and do not know how to sing properly, this crowd's going to kill you.' A bunch of hands went down. A few stayed up."
One belonged to Juliet Kalifeh, a New Orleans high school student, attending with her mother Janette. Urban asked Kalifeh where she attended school. Aware that she was under-age for a club show (even in New Orleans), Janette Kalifeh said Wednesday, Juliet answered, "Tulane."
Then she sang with Urban, apparently well enough to get an invitation to sing for him and the other "Idol" judges as a contestant Wednesday. Juliet Kalifeh and her mom were present when Connick pulled up in the Smokey Mary, and Juliet got an introduction to him by Urban (with Fox's cameras rolling) once all the judges had made their entrance.
Fox didn't reveal how many auditions the judges would see during their two-day visit. The total passed through to Hollywood, including Kalifeh's fate, won't be revealed until the episode airs during the early weeks of "Idol's" 14th season, expected to premiere in January.
As he reached the end of the camera-crew line, Connick said he was looking forward to day two of judging. His ears would be open for knockout voices from his hometown, renowned for making its own special music.
"The rhythm, the harmony, how people talk, the accent, the groove, the pocket," he said. "It's just a different way of life. I'm just hoping it shows up in the audition room today."