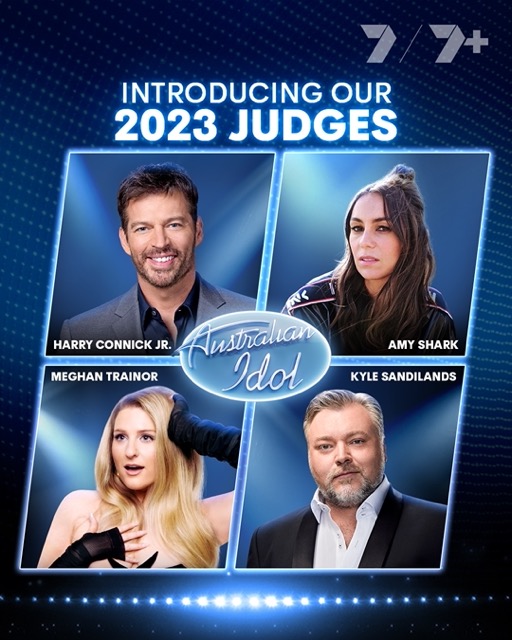 Iconic star-maker series Australian Idol is back, bringing with it a sensational new panel of judges when it premieres on Channel 7 and 7plus in 2023. 
Helping unearth the next idol to take Australia by storm will be celebrated American Idol judge, musician, singer, composer and multiple Grammy® award-winning Harry Connick Jr; powerhouse Grammy® award-winning singer-songwriter Meghan Trainor; unfiltered and unapologetic top-rating broadcaster Kyle Sandilands; and beloved eight-time ARIA Award-winning singer-songwriter Amy Shark.
A global success since 2001, the Idol franchise has launched the careers of many multi-award-winning artists including Aussies Guy Sebastian, Jessica Mauboy, Matt Corby, Ricki-Lee, Anthony Callea, Stan Walker, Casey Donovan and Courtney Act. 
International music icons Kelly Clarkson, Carrie Underwood, Jennifer Hudson and Adam Lambert also launched their brilliant careers on the Idol stage. 
Harry Connick Jnr said: "I'm looking forward to hearing all the new talent! I love the camaraderie with the judges, the excitement of the crowd and the fun of it all. I love the idea of musical competition; it forces performers to focus on a bunch of things that contribute to their development as artists."
Meghan Trainor said: "Idol is an iconic show. I grew up watching it and I am honoured to be involved. I can't wait to sit front row and meet new talent. I haven't been to Australia since 2015, so I'm really excited to get to see the whole country and basically get to live there!"  
Kyle Sandilands said: "I've done all the shows over the years, pretty much all of them, but Australian Idol is the big one. We all know the stars that came out of Idol. We actually found someone to idolise in the music industry in Australia every year with Idol."
Amy Shark said: "I'm excited about the auditions. It's going to be pretty special to find that diamond in the rough and then see how they progress through the show. Idol has changed the lives of so many artists in the past, so I'm excited to be part of that." 
Australian Idol will be hosted by multi-platinum selling, ARIA Award-nominated singer-songwriter Ricki-Lee – who was discovered on Australian Idol in 2004 – and internationally renowned entertainment presenter and former E! host Scott Tweedie.
Ricki-Lee said: "This show changed my life, so it has always held a very special place in my heart. I love that I can be part of it 18 years later. I'm excited to see the amazing talent that walks through the doors at auditions, and I can't wait to see Australia fall in love with a new generation of Aussie talent."
Scott Tweedie said: "I can't wait to unearth great local talent. Part of our job is to throw a spotlight on the best of Aussie music every way we can. We've got the dream team ready to deliver the showtime energy and bangers Idol is famous for."
From Tuesday, 4 October, aspiring idols aged between 15 and 28 will showcase their talents at the judges' audition rounds of the competition covering Sydney, Melbourne, Adelaide, Perth and the Gold Coast.
Seven's Chief Content Officer: Entertainment Programming, Angus Ross, said: "Harry, Meghan, Kyle and Amy are superstars and understand better than anyone what it takes to get to the top in the music industry. Our search for the next idol to capture the nation's attention couldn't be in better hands.
"Idol is the biggest show in the world and Seven is the home of epic television franchises. We can't wait to bring the Idol magic to our audience in 2023."
Paul Franklin, Co-CEO of Eureka Productions said: "At Eureka we are proud to be bringing a new production of Australian Idol to the audience on Seven. This global blockbuster from Fremantle is among the most iconic talent shows in the world, and with such an impressive line-up of international talent on the judging panel, this is shaping up to be a sensational new season."
Australian Idol is produced for the Seven Network by Eureka Productions.  The show will premiere across the screens of Seven in 2023. 
Australian Idol
Coming soon to Channel 7 and 7plus
Get involved:
#AustralianIdol
For more information, please contact:
Alison Booth 
National Publicity Manager 
M: 0419 972 562     
P: 02 8777 7250
Meet the Judges 
Harry Connick Jr.
Harry Connick, Jr.'s career has exemplified excellence across multiple platforms in the entertainment world over the past three decades. His live and recorded musical performances, achievements in film and television, and appearances on Broadway as both an actor and a composer have received Grammy® and Emmy awards as well as Tony nominations. Connick continues to establish himself as a best-selling musician and singer, a composer, actor and legendary live performer; with millions of recordings sold around the world. Connick has appeared in 20 feature films with actors including Sandra Bullock, Hilary Swank, Renée Zellweger, Sigourney Weaver and Morgan Freeman. His work on television includes starring roles in Will and Grace, South Pacific and American Idol. Following his very successful stint as a mentor on American Idol, Harry was invited to join Jennifer Lopez and Keith Urban at the judges' table from 2013 to 2016.
The foundation of Connick's art is the music of his native New Orleans, where he began performing as a pianist and vocalist at the age of five. Highlights of his music career include several multi-platinum recordings including When Harry Met Sally, Blue Light, Red Light (Someone's There), When My Heart Finds Christmas, Come By Me and Only You. His debut album on the legendary Verve Records, True Love: A Celebration of Cole Porter, was released in 2019 and coincided with performances on Broadway in a show he wrote and directed: Harry Connick, Jr. – A Celebration of Cole Porter, honouring the musical achievements of one of America's most respected songwriters.  
In 2020, as the world entered the pandemic lockdown, Harry retreated to his home studio and emerged with an album of songs of faith and inspiration. Alone With My Faith, released during the spring of 2021, displays the sheer breadth of Connick's talents. He wrote new songs, arranged all songs, played every instrument, and sang every voice across 13 tracks. Alone With My Faith earned Connick his 16th career Grammy® nomination for Best Roots Gospel Album.  
Meghan Trainor 
Meghan Trainor made history in 2014 with her diamond-certified smash single All About That Bass. Since then, the award-winning singer-songwriter and multi-instrumentalist has garnered a Grammy® for Best New Artist, achieved eight multi-platinum singles and two platinum albums, sold out three world tours, penned multi-platinum hits for peers across pop and country, and received countless industry awards and nominations. 
Expanding her influence on pop culture, Meghan starred on FOX's hit series The Four: Battle for Stardom for two seasons, and featured on the superstar coaching panel of The Voice UK alongside Sir Tom Jones, will.i.am and Olly Murs. Meghan kicked off 2020 with the release of her third full-length album, Treat Myself, featuring the platinum smash No Excuses, as well as blockbuster anthems and collaborations like Nice to Meet Ya (feat. Nicki Minaj), Genetics (feat. Pussycat Dolls), and Wave (feat. Mike Sabath). At the end of 2020, she released her first-ever Christmas album, A Very Trainor Christmas, featuring the #1 holiday radio single White Christmas. 
Trainor began 2021 by penning a deal with NBCUniversal Television and Streaming Entertainment for a cross-platform partnership. Last fall, Meghan hosted Top Chef Family Style on Peacock and was a judge on Clash of the Cover Bands on E!. In September of 2021 she also launched her podcast, Workin' on It, which she hosts alongside her brother, Ryan Trainor. 
Meghan has just released her new single, Bad for Me featuring Teddy Swims, and announced her fourth full-length album, Takin' It Back, arriving 21 October 2022.
Kyle Sandilands
Kyle Sandilands is one of Australia's most high-profile and recognisable broadcasters. With extensive experience as a personality across both radio and TV, Kyle has perfected what has become his unique trademark of irreverence. 
Since 2000, Kyle has hosted the nationally syndicated Kyle & Jackie O Show, winning a record-breaking 42 Australian Commercial Radio Awards, the show is a 119-time finalist across multiple categories. 
Kyle was previously a judge on Australian Idol from 2004 to 2009, The X-Factor Australia from 2010 to 2011 and Australia's Got Talent from 2010 to 2013. Kyle runs his own production and investment company King Kyle, which has interests across music, television, radio, retail and tech.
Amy Shark 
After honing her craft and self-producing her music for years, Amy Shark became a household name in 2016 with the release of her breakout hit, the 6 x platinum single Adore, which put her on the map as one of Australia's most formidable songwriters.
This was followed by APRA Song of the Year-winning, 6 x platinum, #1 Australian Airplay Chart hit, I Said Hi, and 2019's 3 x platinum single Mess Her Up. Amy's debut #1 ARIA album and platinum-certified Love Monster, released July 2018, was recognised with four ARIA Awards for Album of the Year, Best Female Artist, Best Pop Release, Best Producer [Dann Hume] and was nominated for another five. Love Monster became the highest-selling album by an Australian artist in 2018. 
Following this success, the international music community came knocking, leading her to work with global superstar Ed Sheeran, Grammy® award-winning artist Keith Urban, Blink-182's Travis Barker and Mark Hoppus, and pop heavyweight producers Jack Antonoff and Joel Little. Amy was the first Australian artist to be crowned the Apple Up Next Artist, covering billboards in the US and performing on US TV for Jimmy Fallon, James Corden and Colbert. 
In 2020 Amy released her ARIA Award-winning, platinum-accredited single, Everybody Rise, which hit 40 million streams globally and spent 12 weeks in the top 10 Australian Airplay Chart. 
Amy's sophomore album, Cry Forever, was released in April 2021 and was her second #1 ARIA debut, holding the top spot for two weeks consecutively. Amy's latest single, Only Wanna Be With You is released October 7. 
Today Amy has 750 977 million combined global streams. 
Meet the Hosts 
Ricki-Lee
Ricki-Lee is a multi-platinum selling, ARIA-nominated singer-songwriter. Since she was discovered on Australian Idol in 2004, she has become a household name and is one of Australia's most loved pop stars. 
With a string of hits to her name, the powerhouse vocalist from the Gold Coast has sold over a million records globally and had over 75 million streams of her music, with four #1 hits on the ARIA Dance Chart and UK Club Chart, 10 ARIA top 10 singles, two ARIA top 10 albums, five ARIA top 20 singles and albums, and a top 10 single on Japan's Billboard Hot 100 Chart. 
Ricki-Lee has received two double platinum, two platinum and six gold certifications, as well as a nomination for ARIA Song of The Year for double platinum hit Do It Like That. Her latest single Last Night went straight to #1 on the Australian iTunes chart.
Scott Tweedie
Returning to Australia after hosting E! News in New York, Scott Tweedie is a unique entertainer, successfully merging the irreverence and buzz of digital with classic television broadcaster skills. 
Launching his career as host of ABC's cult hit Prank Patrol in 2009, Scott's cheeky style saw him become an instant household name with every Australian under 20, with the show airing for five years worldwide.
Network Ten recruited Scott to host the Saturday morning music show The Loop, and he became an all-rounder for the network. Appearing on Studio 10, Dancing with the Stars, and Saturday Schoolies, the companion show for I'm a Celebrity Get Me out of Here and roving reporter for Studio 10.
In 2019 Scott was invited to the United States by NBC Universal to host new E! Entertainment programs and interviewed icons including Jerry Seinfeld, Dolly Parton and Harry Styles.