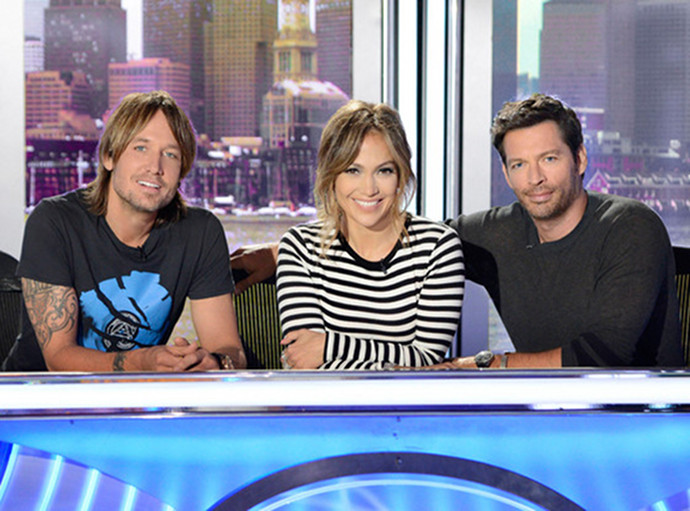 "American Idol" hired Harry Connick Jr. to bring a breath of fresh air to the judging panel, and boy, is he succeeding.
It's still early in the season, but the audition episodes indicate that the latest "Idol" reboot has at least brought a degree of fun into an environment that had precious little of it last year, and a lot of it has to do with Connick. Just look at the panel itself for proof. Keith Urban, Jennifer Lopez and Connick have laughed more the first two weeks of this season than the judges did all last year.
And fans are laughing right along with them. Viewers have watched — and giggled — while Connick cradled contestants, auditioned as a gushing fan for Urban and joked about being treated like a fire hydrant by a dog. And while audiences are laughing at his antics, the crooner chuckles at himself too. He makes fun of the fact that nobody seems to know who he is, and that he's considered the harshest of the three judges.
But the great part is that he's not just a joke-a-minute guy. His feedback to the hopefuls tends to be serious, whether it's advising a golden-ticket recipient about a vocal tic or counseling a less-successful auditioner on how to improve.
As for the singers so excited to (barely) advance to the next round that they don't listen to his advice for necessary improvements? Connick has told it like it is: "You'll hear it in Hollywood," he's grumped. That honesty has been sorely missed since Simon Cowell left the show.
There's a bromance brewing
The judges are always going to be the story on "Idol," since all the contestants are strangers to the audience. So when there's a good relationship among the trio, viewers notice.
The biggest impact has been on Urban, who was criminally neglected last year because of the emphasis on Nicki Minaj and Mariah Carey and the general dysfunction on the panel. He was a ray of sunshine then on a panel otherwise characterized by funky hair and tired catchphrases more than any actual entertainment, and now he has a partner in crime in Connick.
Of course, that's a double-edged sword. So far, sitting at the same table with Connick is like spending eight hours on an airplane next to someone who makes snarky comments about everyone within range, including you. Since Connick's been less willing to go down that road with J.Lo — because let's be honest, the first time they go at it, he's going to go down faster than his plane did in "Independence Day" — it's been all Urban, all the time.
"Keep writing songs, because you're going to write a song that's melodically right for you and lyrically right for you, and it's going to bring out all the best in you," Urban recently told one auditioner who earned praise but not a ticket.
After the hopeful left the stage, Connick turned to the country star and said, "That's great advice. That's smart. When is that going to happen for you?"
"I'm working on it," Urban said before muttering an expletive aimed at his fellow judge.
Maybe the needling got to be a bit much then. But a second later, the next singer took the stage, everyone was laughing and all was right with "Idol."
Fox can only hope that trend continues for the rest of the season.
"American Idol" airs Wednesdays and Thursdays at 8 p.m. on Fox.