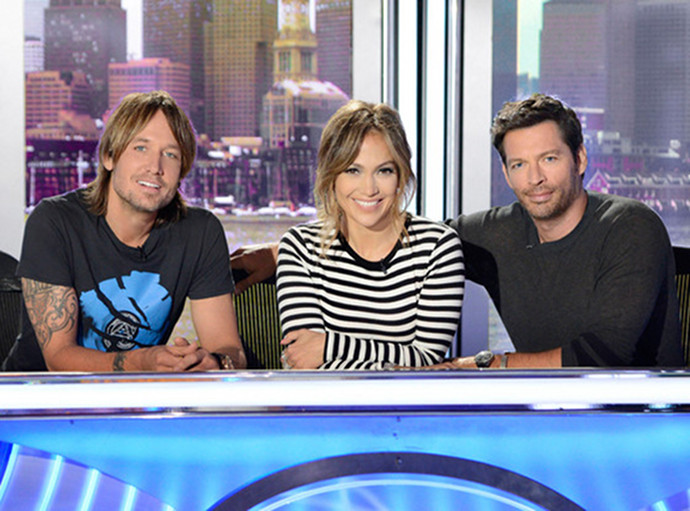 'The Voice,' 'Idol' & 'X Factor': All 26 Judges, Ranked By Katie Atkinson | September 22, 2014 2:52 PM EDT
As Gwen Stefani & Pharrell Williams join 'The Voice,' we rank the coaches who came before them.
Starting Monday night (Sept. 22), there are two new kids on the singing-competition block: Gwen Stefani and Pharrell Williams, who will make their debut as coaches on The Voice. They're arguably two of the most famous and relevant faces to sit on a reality-show panel ever, but we've learned over the years that superstardom isn't all it takes to make a good judge. Actually, it's not even really a requirement (see our No. 1 below, who wasn't even known in the U.S. when his show debuted).
It remains to be seen where Gwen and Pharrell will fall in the history of singing-contest judges, but before their debut, let's rank all 26 personalities who have come before them.
*A few housekeeping notes: We only included the three U.S. shows that have more than one season (sorry, Rising Star and The Next) and are on a major network. We also left out The Sing Off, since it features such a specific style of singing, but obviously Ben Folds would have been pretty high on the list.
Let's judge the judges!
1. Simon Cowell (American Idol)
Was there ever any doubt? There are so many reasons for putting Cowell up top, but the two biggest are illustrated in the videos below. First, no one dropped a better insult than he did -- and they were almost always deserved. But more importantly, he knew when someone was great almost instantly and was able to sway viewers to vote his way. He called Carrie Underwood's success from her first audition and even made the bold (and 100 percent accurate) statement that she would go on to outsell every American Idol winner.
2. Blake Shelton (The Voice)
Before The Voice, most people either knew of Blake as a country singer or didn't know him at all. Now, they know him as the guy who has stacked up the most wins on The Voice (he's coached three champs, not to mention three runners-up), and they also know about his charming sense of humor (just watch his lip-sync battle with Stefani from last week).
3. Harry Connick Jr. (American Idol)
Connick is the closest thing to a music expert any of these shows has ever had, and he made it his mission as the rookie Idol judge this year to educate the contestants, his fellow judges and America in all things musical theory. The New Orleans musician also wasn't afraid to bring out some Cowell-esque harshness when it was needed, but his lighthearted rapport with the other judges and fatherly love for the singers kept him from coming off too mean.
4. Paula Abdul (American Idol)
Her criticisms might have been beside the point, but her presence was not. Part of the appeal of early Simon Cowell was tied to his dynamic with the loopy onetime pop star. Her genuine love for all the contestants was the perfect contrast to Cowell's grumpy realism. And we might never have seen Cowell smile if it weren't for his brother-sister antics with Abdul. More importantly, she wasn't afraid to disagree with Cowell.
5. Adam Levine (The Voice)
Just like Idol wouldn't have been the same without the Simon-Paula dynamic (come to think of it, it isn't), the same could be said for The Voice and the bromantic duo of the Maroon 5 frontman and Shelton. As the only two judges who have appeared on every season, they hold the panel together, mostly due to their playful rivalry (Levine has the second-most Voice wins with two) and genuine affection for each other. Plus, Levine's pre-Voice reputation as a rock-and-roll playboy was certainly helped out by the show, where we get to see how funny and charming he can be. Below, he shows off that charm while imitating his fellow judges.
6. Jennifer Lopez (American Idol)
Speaking of reputations in need of rehab, Lopez was often thought of as a demanding diva before her first season, but the J.Lo we see on the show is sweet and very generous with all the Idol hopefuls. Case in point: She obliges a fan's request for a slow dance during auditions (would Mariah have allowed that?). Also demonstrated the great rapport she has with the latest panelists -- Connick and Keith Urban – who during auditions back up a young Romeo as he serenades Ms. Lopez. She really is still Jenny From the Block!
7. Simon Cowell (The X Factor)
Oh hi again, Simon! X Factor wasn't the huge hit Cowell had hoped, but it gave us a better glimpse into his crafty music-executive side. Just like he handpicked cute solo singers on the U.K. X Factor and made them into a little group called One Direction, he handpicked five cute ladies and created Fifth Harmony, who have scored two Hot 100 singles ("Bo$$" and "Miss Movin' On") and won the Artist to Watch award at last month's VMAs. He also coached eventual season 3 winners Alex & Sierra, and you could see the dollar signs in his eyes when he watched Emblem3's audtion. "I predict big things for these guys going forward," he told the group, which just so happens to be signed to his Syco Music label now (as are Fifth Harmony and Alex & Sierra).
8. Keith Urban (American Idol)
The country singer's greatest skills as a judge are also his greatest skills as a music superstar: He's off-the-charts likable and he's a killer guitar player who can (and will) play any song on command.
9. Usher (The Voice)
Usher has only appearead on two seasons of The Voice so far, but he's already produced one winner (Josh Kaufman) and one runner-up (Michelle Chamuel). His eye for talent and well-documented charm has taken him a long way -- as has his trademark "leg up" pose.
10. Steven Tyler (American Idol)
The Aerosmith frontman had a way with words during his time on Idol (one choice quote: "Don't sweat the petty things and don't pet the sweaty things"), but his ogling of the young female contestants often felt a little icky. He definitely kept things interesting, however, and two of the most successful recent winners (Scotty McCreery and Phillip Phillips) came during his two seasons.
11. Shakira (The Voice)
Though she has yet to place a member of Team Shakira in the top three, the Latin superstar has added a rush of new energy to the Voice panel in her two seasons on the show. She has also proven to be a shrewd strategist: Check out the video below, where she hides her surprise as she turns around to find a male contestant she thought was a woman based on his voice alone. If she had let her shock show, her rival coaches might have turned around out of curiosity and stolen the talent.
12. Kelly Rowland (The X Factor)
The Destiny's Child alum has found success on the U.K. X Factor, but she couldn't save the U.S. incarnation in its ill-fated third season. While she was likable enough in her one season, she didn't bring too much to the table -- aside from complimenting the male contestants.
13. CeeLo Green (The Voice)
The show played a big part in CeeLo's post-Gnarls Barkley solo renaissance and gave us an up-close look at the quirky performer who loved an over-the-top costume. Despite last month's tasteless tweets, we'll always have CeeLo's love for a fluffy sidekick.
14. Randy Jackson (American Idol)
Love him or hate him, the Dawg is the longest-standing judge of any on this list, logging 12 seasons on Idol. He didn't always have the most constructive advice, but he was a constant presence on an ever-changing panel.
15 and 16. Nicki Minaj and Mariah Carey (American Idol)
Let's just call this one a draw and try to forget season 12 altogether. If you love the trainwrecky early audition episodes of Idol, then this was probably your favorite season yet, because every episode was a train wreck, with the constant bickering between the superstar ladies. See below where Nicki calls out Mariah (for agreeing with her!) only to have some expert shade thrown right back.
17. Demi Lovato (The X Factor)
The Disney alum was a spunky presence during her two seasons on the show, often calling out Cowell and speaking her mind to unruly contestants. But while she was set up to be Simon's new Paula, the dynamic just never worked out that way.
18. Christina Aguilera (The Voice)
A lot of good things have come out of The Voice for Aguilera, including her hit collaboration with fellow judge Adam Levine on Maroon 5's "Moves Like Jagger." But the show hasn't done much to help her reputation as a diva. Exhibit A: The way she threw her former Mickey Mouse Club co-star Tony Lucca under the bus for no apparent reason. Exhibit B: The way she always seems to turn her coaching sessions into a showcase for her voice and not for her contestants.
19. Paula Abdul (The X Factor)
Paula's second team-up with Simon didn't fare quite as well as the first. For Cowell's big U.S. X Factor debut, he thought he could reclaim the magic of his first stateside mega-hit by getting the old band back together. Instead, the addition of Abdul just made the whole thing feel stale before it even started. Her one saving grace: She was still the contestants' No. 1 fan.
20. Cheryl Cole (The X Factor)
Poor Cheryl. She never even had a chance! Cowell fired the Girls Aloud singer before the show even aired back in 2011. At the time, the blame was put on her thick accent, but Cowell just revealed last month that he "didn't recognize" the Cheryl that showed up for filming, citing her weird hair and outfit and saying she had gained a "bit of weight." Ouch. Honestly, we didn't really get to know her too well, which keeps her from being too high or too low on this list.
21. Paulina Rubio (The X Factor)
The Latin singer was good for unpredictability and for her notable pronunciation of "pitchy" (she did not, as it sounded, think the contestants sounded "peachy"), but this was a bad fit from the start.
22. L.A. Reid (The X Factor)
Yup, more X Factor, and two more still to come. With his two-plus decades as a record executive, L.A. seemed like a great choice for the panel. But we already had the exec mind of Cowell. Having two businessmen on the panel just made this feel more about selling a product than finding a star.
23. Kara DioGuardi (American Idol)
Looking back, the decision to add a fourth judge to Idol really was the beginning of the end. The show was a bona fide, untouchable hit, and fans didn't like the formula getting messed with. DioGuardi's bristly personality didn't help matters, as she bickered with everyone from Simon to a contestant known as "bikini girl" to guest judge Katy Perry.
24. Britney Spears (The X Factor)
A lot of money was thrown at Britney to be a judge on The X Factor, but she never delivered on the promise of her star power. At least we have countless GIFs to show for her single season on the show, and this beautiful moment where she feared thunder:
25. Nicole Scherzinger (The X Factor)
The former Pussycat Doll is so low on this list because she mugged for the cameras while the contestants performed and she was never paying attention to what she was supposed to be doing. In retrospect, Simon should have given Cheryl more of a shot.
26. Ellen DeGeneres (American Idol)
Obviously, this lapse in judgment (on her part and the part of the producers) didn't hurt DeGeneres' career in the long run. But it did do irreparable damage to the previously unsinkable show. When Paula's contract negotiations fell through in season 9, they should have just kept the panel to three people. Instead, they added the unnecessary fourth, and it was someone with no music expertise to speak of.
http://www.billboard.com/articles/news/6258978/the-voice-idol-x-factor-every-judge-ranked?mobile_redirection=false