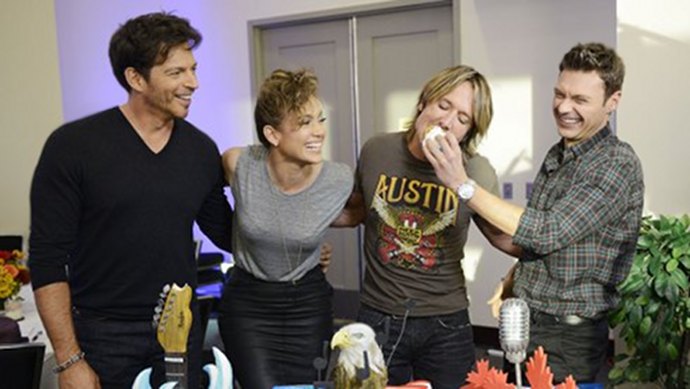 Who dat? Only the best thing to happen to American Idol in this post—Simon Cowell era.
Harry Connick Jr. may not be as instantly recognizable as his fellow Idol panelists Jennifer Lopez and Keith Urban, but in a world where too many reality-show judges act more like cheerleaders (yes, The Voice, this even applies to you), this New Orleans crooner and accomplished cutup has what I'd call (apologies to Cowell) the X — or expert — factor. He's exceptionally entertaining, extremely knowledgeable and expansively personable — even when his explosive opinions earn him the labels "Hatchet Harry" and "Harsh Harry" from the kinder, gentler Lopez and the occasional disgruntled contestant. But how can you not love an Idol judge who hates the word pitchy and refuses to be wowed by caterwauling vocal gymnastics?
"Some people on this panel are very easily impressed by licks," Connick said early on, making it clear he's not one of them. Though he's no pushover, he is an enthusiast whom you believe when he tells a hopeful, "I'm rooting for you." Throughout Idol's multi-city auditions, he often remarks on a singer's potential for growth. "That's gonna be a fun watch," he gushed after one successful tryout. Takes one to know one.
Connick is the life of this party, needling J. Lo for never flying commercial, then cradling a contestant in his arms out of sheer delight at having a fan single him out amid this starry company. He takes the music — but not himself — very seriously, and often cracks up the crew with his wacky antics while horsing around with Urban and Lopez. Such a refreshing change from last season's distracting and asinine Nicki-vs.-Mariah snipefest.
Connick, who was among Idol's most engaging mentors in past seasons, is even more adept in this new role, and the chemistry on the current panel is at least on par with the more celebrated Voice cast. As Idol wraps its auditions this week (8/7c, Wednesday and Thursday, on Fox) before heading to Hollywood, I find myself looking more forward to the actual competition than I have in years.