HARRY CONNICK JR
Thou Shalt Not: Original Broadway Cast Recording
---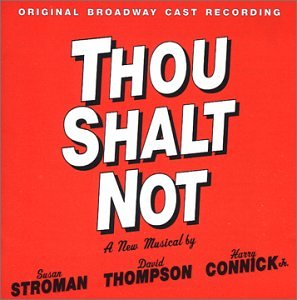 A 77-minute original cast recording of Harry Connick, Jr.'s Tony nominated score from the 2001 Broadway musical Thou Shalt Not. Music and lyrics by Connick who does not sing on this album, but plays the piano as an "additional musician," and does the orchestrations and arrangements, and is a producer on the album.
"The last days of my experience with 'Thou Shall Not' were as exciting as the first. To hear the singers and musicians deliver the words and music comfortably, and with familiarity, was a joy. This recording represents a hugely important time in my life; the exhausting, marvelous days of my first Broadway show. My thanks to Susan Stroman, Tom Thompson, the cast, orchestra, and crew of 'Thou Shall Not.' Thanks for showing me a path which I'll travel, God willing, for many years to come." - Harry Connick, Jr.
We have a limited number of copies of "Thou Shall Not." If you are interesting in purchasing a copy of this rare album release, please email info@harryconnickjr.com for more information.